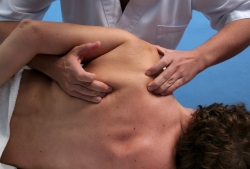 St. Petersburg, FL, March 23, 2015 --(
PR.com
)-- Chiropractors on Staff at Revive Medical Spa of St. Petersburg perform life changing adjustments, as well as offering massage therapy in the offices for clients by Licensed Massage Therapists. There are many questions people have when choosing a chiropractor for adjustments and massage therapy. In Florida, St. Petersburg has numerous chiropractors performing adjustments however, not all chiropractors offer a wide variety of massage techniques that may have more effect on your healing process. Below are 4 things Revive Medical Spa of St. Petersburg recommends being aware of when selecting a chiropractor office for performing massage therapy in St. Petersburg Florida.
#1) Chiropractic Care
Imagine, having lower back pain without no sign of relief. Many suffer from these pains. As a matter of a fact, 8 of 10 adults will suffer with some form of back pain in their lives. Symptoms include muscle, joint, disc, ligament and spasms in areas from the neck down to the buttocks. Chiropractors should be able to accurately diagnose your problems and come up with a plan that gets your pain under control with diet changes, exercises, physical therapy or massage therapy that goes in conjunction with the chiropractic care preferences that best suit clients needs. In the past, treatments would have included bed rest, uncomfortable traction, heavy sedation, injections, and surgery. Now, modern treatments have a more natural approach to healing the back called chiropractic care.
#2) What Chiropractic Care Means For Clients?
In St. Petersburg, massages offered by a chiropractors staff that also performs spinal adjustments can lead to pain relief for conditions including headaches, certain types of migraines, menstrual cramps, allergies, asthma, stomach disorders, spastic colon, and arm, hand, and leg pain that's due to dysfunction of the neck or lower back. By the chiropractor performing on specific targeted areas of the spine, the spinal vertebrae can be adjusted back to the normal positions. By adding specific massage techniques including trigger point massages, deep tissue massages, neuromuscular massage, cranial sacral massages and other specific types of specialized forms of massage therapies, chiropractic care can be quite beneficial for relieving pain and promoting healing.
#3) What Happens during a Chiropractic Examination?
A chiropractor will conduct a query of a patient's medical history; perform a physical exam as well as a neurological and orthopedic examination. Chiropractic physicians will take care by reviewing history and properly assessing your posture, spine, reflexes, joint motion, and muscle strength. A chiropractor may even need to use x-rays and other diagnostic images to locate vertebral dysfunction and to rule out disorders like tumors or fractures, which may even require the attention of other healthcare experts.
#4) Which Chiropractor Offices Perform Massage and Adjustments in St. Petersburg?
Beware, not all of chiropractor offices in St. Petersburg perform massages. It is proven that massages performed by a chiropractor in conjunction with proper nutrition and exercise can greatly improve your results. Massages in St. Petersburg performed by individuals that are not chiropractors may not get the desired results you are aiming for. It is important to choose a chiropractic care specialist that performs massage therapy in St. Petersburg such as the Revive Medical Spa of St. Petersburg. Revive Medical Spa of St. Petersburg is one if the few that not only performs chiropractic adjustments, but also performs a large variety of massages and other techniques to help you achieve reduction of pain naturally.
For more information on St. Petersburg Massage therapy or Chiropractic Care, please visit
revivemedicalspastpete.com