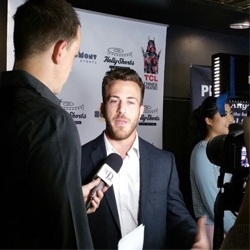 Los Angeles, CA, March 26, 2015 --(
PR.com
)-- During the Hollyshorts monthly screening at the prestigious TCL Chinese Theater on the Hollywood Walk of Fame, a lot of great shorts were shown. The one that stood out for it's own original content was "Free Refill." A movie about the cultural diversities between Sebastiano (Alessandro Nori), an Italian student, that shares an apartment with Josh (Nick Phillips) who's American. The movie brings up controversial and well known subject matter, such as "gun control." "Free Refill" employs the use of 35mm film, a rarity for short films that's becoming even less frequent in features. With this, the film is able to capture a gritty reality that reflects Brinciotti's "socio-dramatic" sensibilities.
Luca's style can be associated to Aronofksy's with a European touch. "Cultural differences have always fascinated me as they're a great way to learn from each other, while other times they may ignite an endless debate on who's right."
Luca Brinciotti will present his next three shorts (21 Ft. South, Itanglish and Immortality in Blue) in upcoming festivals.
He's also working on his feature length script with his writing partner Livia Azzolini.
You can check out his work and contact on his website: www.luca-brinciotti.com.