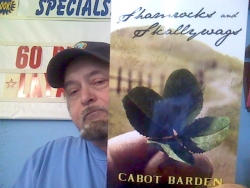 Talladega, AL, April 01, 2015 --(
PR.com
)-- Not your everyday Civil War story, "Shamrocks and Skallywags" encompasses three generations of an Irish family that end up being indentured servants on a plantation in southern Georgia.
Follow the Barton family, their friends, neighbors, and foes, as they experience the aspects of life as Americans, who endure war, murder, mayhem, romance, even a brush with the supernatural, and much more.
Immerse yourself in the adventures of the Bartons, as this family, with the luck of the Irish, deal with a myriad of Skallywags and life in general, in the mid eighteen hundreds.
Cabot Barden, native of Sylacauga Alabama is also a singer/songwriter. Previous award winning novels by him "It's The Bass Player", Toby's Mixed Blessings, and Dynamite Runs In The Family. All three known as "The Toby Trilogy".
Barden, who owns his own music store, is a member of NUMA, NSAI, ASCAP, NABE, and President of the Central Alabama Writers Guild and Alliance. This is his first book dedicated to historical fiction.