Verix Announces Its New Self-Service Management Dashboard for Maximization of Sales Effectiveness in Pharma
Cloud Analytics Platform Provides Commercial Operations Executives Unmatched Ability to Generate Fast and Accurate Data Insights to Grow their Business.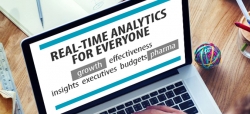 Los Altos, CA, April 02, 2015 --(
PR.com
)-- Verix Inc., a leader in analytical solutions for commercial operations in the life sciences market, today announced the release of its new Management Dashboard.
The Verix Management Dashboard empowers decision makers in Pharma, all the way from VPs to Managers, with insights on their business performance – from sales to brand and Managed Markets - at all levels of the command chain, in all territories no matter the complexity of the data.
One of the biggest challenges faced by life sciences organizations today is staying efficient and profitable in a time of continuous changes of regulations, an overwhelming abundance of data, and the growing complexity of technology.
As a result, the need to cut in costs in the pharmaceutical industry is often translated into pressure on commercial operations, as management presses to conduct more and more market research and analyze the business landscape, in order to make better informed business decisions.
In order to face these challenges successfully, high level managers in the Pharma industry need immediate, direct and easy access to real-time data. They simply cannot be dependent on other departments providing them with mediated stats and slow-to-come answers to pressing questions.
Data needs to be presented in a way easily understood and consumed by high level business users – it needs to be democratized! This means making data analytics accessible to a broader base of frontline users freeing analytical teams to perform deeper analyses and answer the more complex questions.
The Management Dashboard delivers answers on critical business KPIs including:
* Measurable overall effectiveness of sales efforts, using role-specific dashboards combined with Rx and CRM data.
* Automatically generated Smart Text executive summaries of the business at the national/ geographic level, to enable immediate understanding of the business situation.
* Easy comparison between Net Sales, Budget and Forecasts.
* Understanding of competitor's trends and actions based on a detailed analysis of geographic and prescriber's activity.
* Viewing aggregated Sales Force Activity and Managed Markets data relevant to the executive level.
"Today is about the democratization of data in a complex Pharma market. Dealing with huge data sets on a daily basis, having access to insights you can act upon independently is not only critical, but vital to commercial operations. The Management Dashboard not only delivers those insights to the executives directly, it also frees the analytical resources to turn to the more creative, deep research required, thus maximizing the efficiency of the business." -Tanya Abarbanel, VP Product at Verix.
About Verix:
Verix offers innovative cloud based analytic applications to streamline commercial operations in the Pharmaceutical industry. A must-have solution for Sales, Marketing, Analysts, and Managed Markets users, both in the field and back in the home office.
Verix's analytic applications provide timely, focused and relevant insights anytime, anywhere – online, offline, and on mobile devices.
Combining external and internal data sources and utilizing patented HotSpots™ technology, Verix's rich library of analytic applications is used by thousands of daily users from Fortune 500 clients, to quickly identify the highest return opportunities and reach profitable growth.
For more information about Verix, please visit: www.verix.com
Follow Verix on LinkedIn https://www.linkedin.com/company/verix
Follow @verix_inc on Twitter
Contact
Verix
Lynn Brigg
972-3-9012886
verix.com

Contact