Puppy Paws Inc., Paw-Shaped Jewelry for People Who Love Animals, is Pleased to Introduce Their New Collection of Jewelry for Groomers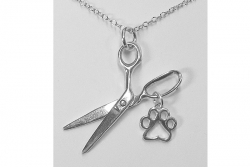 Mayfield Heights, OH, April 17, 2015 --(
PR.com
)-- The collection began after a groomer in Hershey, PA requested a pendant that included a pair of sterling silver scissors with a Puppy Paw® dangling from the thumb ring.
Now the collection as grown to include sterling silver as well as 14k white and yellow gold shears that can sport the wide variety and sizes of Puppy Paws®. Earrings are coming soon.
The scissor pendants are approximately 1" long and 5/8" across. The Puppy Paws® range from a tiny 3/8" x 3/8" Classic Puppy Paw® (Classics are without any birthstone crystals) to the Mother's Paw® that can hold up to 12 Swarovski™ birthstone crystals of your pets and measures about 7/8" x 7/8".
Groomers can select a Puppy Paw® with just one birthstone crystal too. Some choose the birthstone of their dog while others choose to wear the birthstone of their dog. For rescue dogs we always recommend that they use the month they brought their dog home as "rebirth" because they are reborn when they come home to you.
Prices for sterling Groomers Paws begin $40.00. All sterling silver pendants come with an 18" chain necklace.
The Puppy Paws® collection includes bracelets, charms, cufflinks, earrings, rings and tuxedo studs. Pewter holiday ornaments, wine stoppers and other gifts items are also available.
Wholesale and commission packages are available for interested retailers.
Puppy Paws, Inc. is a Cleveland Ohio-based designer of jewelry for animal lovers. Puppy Paws® are "uni-species" paw-shaped jewelry that feature a simple sterling silver or 14k paw with the birthstone(s) of your pet. Puppy Paws®, Mother's Paws®, Memory Paws® and Memory Lockets are available online at www.puppypaws.com, and in select jewelry stores and pet boutiques throughout the United States and Canada.
Contact
Puppy Paws Inc
Pamela Meltzer
440-461-9667
www.puppypaws.com
6763 Stafford Dr
Mayfield Hts OH 44124

Contact