Water from Air System Installed in Abu Dhabi Gas Facility
Atmospheric Water Solutions Spotlights Oil Industry by providing oil and gas rigs equipment that can generate pure water from the humidity in the air through the patented process of condensation and multiple filtration.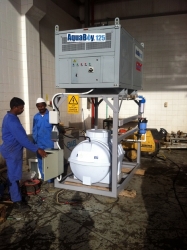 Fort Lauderdale, FL, April 24, 2015 --(
PR.com
)-- Atmospheric Water Solutions (AWS) the leader in all solutions for producing and distributing water from air generators, begins its second month of a pilot program with GASCO, supplying water from air to their workers stations on a gas facility.
GASCO, a subsidiary of the Abu Dhabi National Oil Company, has hundreds of such facilities throughout the UAE. This pilot program gives GASCO the opportunity to observe the production and superior quality of atmospheric water. The objective is to provide drinking water for the staff in order to lessen the need for water tanker trucks or helicopters delivering potable water to their workers on a daily basis. AWS's award winning devices extract humidity from the air and then filter and dispense the purest water available, which does not contain Chlorine, Fluoride or any heavy metals. The company's patented generators produce between 2 gallons and 5,000 gallons per day.
"We appreciate the opportunity to demonstrate to GASCO, as well as all the ADNOC companies, our system. "It is swiftly installed on site, providing the purest of water for their employees, and at the same time lowering GASCO' s carbon footprint," said Howard Ullman, CEO of AWS.
With sales offices over 30+ distributors globally and OEM factories in the U.S., India and South Korea, Atmospheric Water Solutions Inc., is the leading supplier of atmospheric water generators in the world.
For more info about AWS visit
www.atmosphericwatersolutions.com www.twitter.com/waterfromairaws
About Atmospheric Water Solutions, Inc.
One of the original patent holders of atmospheric generation technology developed in the late 1990s, produces systems that make pure water from air through their patented process of condensation and then processing that water through a multiple filtration system. The systems come in all sizes and are scalable by design or linking units into a series. These machines serve homes and offices, oil and gas exploration, agriculture, mining, military, hospitals, schools, municipalities, and humanitarian efforts.
Contact
Atmospheric Water Solutions
Howard Ullman
954-306-6763
atmosphericwatersolutions.com

Contact