Water from Air System Irrigates Qatar Farm
Atmospheric Water Solutions Provides Water for Farming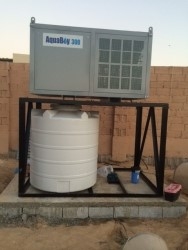 Fort Lauderdale, FL, May 05, 2015 --(
PR.com
)-- Atmospheric Water Solutions (AWS) the leader in all solutions for producing and distributing water from air generators has shipped and successfully installed two commercial Aquaboy 300's in Doha Qatar. Picture a country rich in power — oil, gas, solar, wind and money. Now picture it destitute and missing the one key element for their future and their lives…water.
These technological state-of-the-art water from air generators are capable (based on humidity) of producing up to 300 gallons each a day. "Our core initiative is to provide pure water for the development of vegetables on farms where the ground water is salty thus lowering crop yields and good quality produce is," said AWS president and CEO Howard Ullman.
"Our vision is to solve tomorrow's problems today through innovation. We need to adopt 'step changes' such as thinking out of the box, using new processes, novel technologies and new materials. This will help us find new solutions that will help not only Qatar but the entire world to come out of the water crisis," says Dr. Adel Sharif of the Qatar Environment and Energy Research Institute (QEERI).
The declining yields in Qatar are due to climate change, soil exhaustion, loss of farmland to urbanization and raising sea levels. The growing demand for fresh potable water is due to the growing population, changing diets and energy and material crops. Atmospheric Water Solutions is helping to meet these demands with the company's water from air generators.
Qatar's legislation Regulations have been adopted based on the following statistics
1. 2 days of Potable Water Reserve
2. 1% total land in Qatar is cultivated
3. -30% Decline in the number of active farms since 2008
4. 90% of all food consumed in Qatar is imported
AWS began working with farmers in Miami in 2014 growing micro herbs and greens. In a controlled study Atmospheric water showed a dramatic increase in both germination and overall yield.
In the initial trial, the companies compared 4 trays of micro greens (Kohlrabi) that were irrigated with atmospheric water and 4 control trays that were irrigated with Miami city water. There is an interesting distinction here, in that the city water samples also enjoyed a fertilizer additive. Trays were seeded and set on racks, side-by-side, in the greenhouse and allowed to grow for 7-10 days. The trays that had been irrigated by Atmospheric water appeared to have a better seed germination rate and produced a plant that was slightly greener and just as developed as the trays that had been irrigated with city water and had the extra benefit of a fertilizer application.
Another trial was conducted on a different variety of micro green (Kale) to see if the differences in growth and development would be consistent across varietal lines. The same conditions were applied as before except fertilizer was added to both samples.
The kale trials fertigated with AquaBoy water produced product that is greener and has more height than the kale fertigated with city water. The reason is because the pH of the Aquaboy water is only 7, while the pH of city water is 8. Iron (Fe), which causes greening, is at its peak availability to plants between the pH range of 5.5 and 6.5. If the AquaBoy system could be tweaked to bring down the pH a bit more, then the results of greening would be even more pronounced. As an added note, the AquaBoy water is superior to city water for use in and on the human body, so the water can also be used for drinking and hand washing by farm workers.
Atmospheric Water Solutions is currently working with farmers in California in developing off grid systems using atmospheric water generators and alternative power generation sources from the sun, wind, and waste and will be introducing these systems in the coming months.
With sales offices over 30+ distributors globally and OEM factories in the U.S., India and South Korea, Atmospheric Water Solutions Inc., is the leading supplier of atmospheric water generators in the world. For more info about AWS visit atmosphericwatersolutions.com, www.twitter.com/waterfromairaws
About Atmospheric Water Solutions, Inc.
One of the original patent holders of atmospheric generation technology developed in the late 1990s, produces systems that make pure water from air through their patented process of condensation and then processing that water through a multiple filtration system. The systems come in all sizes and are scalable by design or linking units into a series. These machines serve homes and offices, oil and gas exploration, agriculture, mining, military, hospitals, schools, municipalities, and humanitarian efforts.
Media Contact: Joel Leshinsky
Phone: 954-306-6763
Email: JLeshinsky55@comcast.net
Contact
Atmospheric Water Solutions
Howard Ullman
954-306-6763
atmosphericwatersolutions.com
954-261-6304

Contact