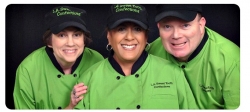 Los Angeles, CA, May 08, 2015 --(
PR.com
)-- It's done. After undergoing rigorous scrutiny, L. A. Sweet Tooth Confections has met unpretentious approval. They are now available in select 7-Eleven stores in Los Angeles, CA, the company's publicist announced today. The California gourmet chocolate-covered treat company continues to gain distribution with stores and hotels.
When decision makers taste a sample of L. A. Sweet Tooth Confections, they tend to sign on. And for good reasons. The Los Angeles based company has handcrafted, delightfully delicious desserts with creative flair. It's everything the region's sweet-tooth consumers prefer.
In February of this year, the company caught the attention of a Beverly Hills gala. They were invited as a supplier to Indy Car Movie Production's Pre-Valentine Party.
"L. A. Sweet Tooth Confections' upmarket sophistication is responsible for 7-Eleven recognizing it as a fresh, chocolate dessert option," stated Fran Briggs of eMediaCampaigns! and publicist to the company. "They're building intrinsic business relationships by collaborating with local markets, distributors, and private clients."
Customers enjoy great-tasting, mouthwatering signature cookies such as Chocolate Bliss and Peanut Butter Sandal. Other tempting chocolate covered treats include Bailey Bons; Granny Grams; popcorn; bark; large round pretzels; pretzel rods; mini pretzels and strawberries.
"Last year on my birthday, I received a long glass jar filled with chocolates from LA Sweet Tooth Confections. There were pretzel rods, chocolate, peanut butter, and dipped in chocolate, cookies, and foil-wrapped, 'Happy Birthday' chocolates," says Victor M. of Los Angeles.
"Great presentation. Everyone at my birthday dinner was very jealous. I've tried other items they make. All very delicious. Everyone should try these chocolates. You won't be disappointed," he concluded.
Owner, Paula Solis added that "Customers also enjoy delicious cupcakes, which can be infused with liquor for special occasions. We design dessert themes in colors to complement our customers party and gift themes. We deliver for birthdays, weddings, anniversaries, holiday parties, sports-theme, Bar/Bat Mitzvah parties, bachelorette parties, graduation parties and more."
Solis noted that L. A. Sweet Tooth Confections align with their clients in a synergized and systematic world-class manner. Then, to ensure success they add an intangible ingredient--love.
L. A. Sweet Tooth Confections partners, Leslie Zimmer and Jim Davenport give back to their community by donating a portion of their profits to veteran charities.
For more information about L. A. Sweet Tooth Confections, please call 818.687.4120, or visit
http://www.lasweettoothconfections.com