Highland Woodcraft of Hickory NC Debuts Unfinished Furniture Website; Introducing HighlandWoodcraft.co
Highland Woodcraft has been in business for more than forty years as one of the most respected retailers of unfinished furniture. Now, all of what Highland Woodcraft offers in real wood furniture can be viewed from anywhere in the world. Visit www.highlwandwoodcraft.co for a chance to see the abundance of products that represent the finest quality of unfinished real wood furniture.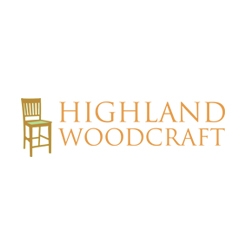 Hickory, NC, May 13, 2015 --(
PR.com
)-- Highland Woodcraft is located in Hickory, N.C. among the Blue Ridge Mountains. It is there where customers can come see a showroom filled with authentic wood products. With the new website, customers all over the globe can now have a similar experience. From their website, customers can have direct links to the manufacturers that Highland Woodcraft represents and have access to full catalogs from each manufacturer.
All items are available for nationwide delivery while local residents have the option of stopping by and picking up items themselves. Nationwide delivery service is available to the lower 48 states.
Unfinished furniture is a specialty at Highland Woodcraft, although finished furniture is also available. Additionally, there is a finishing service provided to Highland Woodcraft customers.
Having always been a family owned and operated business, there is a great amount of pride that goes into every aspect of the day-to-day operations at Highland Woodcraft.
"We opened in 1975 as a manufacturer, wholesaler and retailer of real wood furniture. A lot has changed in the furniture industry in the last forty years. Most of our furniture is still made here in the United States, using the same methods and traditions that have been used for generations."
Tradition and quality have now merged with innovation in Highland Woodcraft's brand new website. Highland Woodcraft offers many styles of dining room furniture, bedroom furniture, rocking chairs, entertainment and home office pieces, home accent pieces, bookcases, bar stools, pantries and kitchen solutions.
Highland Woodcraft has withstood the test of time, passing down quality and integrity from one generation to the next. Shopping for either a conversational or heirloom piece of furniture is now as simple as visiting www.highlandwoodcraft.co. The products truly speak for themselves.
Price quotes are available along with friendly customer assistance. The team at Highland Woodcraft is never too busy to lend a helping hand to its customers. There is a reason Highland Woodcraft has experienced over 40 years of successful business and that comes with a special attention to detail in every aspect.
The online experience of shopping for real wood furniture has never been as convenient, exciting and affordable as it is now with Highland Woodcraft. Visit once, visit twice and let the quality of Highland Woodcraft's products keep you clicking back for more.
Contact
Highland Woodcraft
Mitch Ripley
(828) 303-2455
http://highlandwoodcraft.co/

Contact