AGD SYSTEMS Corporation Announces Capabilities with Addition of Six (6) Tristar L-1011 Tankers for Aerial Refueling, Cargo and Medivac Missions
Former RAF Tristars to take flight again. AGD SYSTEMS will be operating (6) Tristar L-1011 aircraft that were previously in service with the United Kingdom - Royal Air Force (RAF).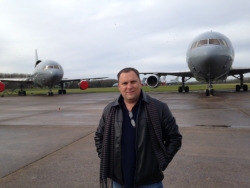 West Palm Beach, FL, May 18, 2015 --(
PR.com
)-- AGD SYSTEMS will be operating (6) Tristar L-1011 aircraft that were previously in service with the United Kingdom - Royal Air Force (RAF). Four (4) of the aircraft are designated aerial refueling tankers with a NATO standard drogue system. The remaining two aircraft are configured for cargo, passenger and medivac missions. The aircraft will operate under Federal Aviation Administration (FAA) registration-certification and have already been assigned FAA "N" registration numbers.
The former RAF Tristars had entered service in the 1980's and still remained in exceptional condition being recently overhauled just a few years ago. However, new mandates within the UK government to upgrade the fleet, the Tristars were replaced with the Airbus A330, a commercial program offered by a consortium made up of aerospace companies: Babcock, Cobham, Airbus Group, Rolls-Royce and Thales. The UK program contract awarded the consortium (AirTanker) the Future Strategic Tanker Aircraft (FSTA) contract for RAF Voyager by the Ministry of Defense in 2008. This for the supply of (9) A330 aircraft for air-to-air refueling, air transport and aeromedical evacuation capability, plus associated service and infrastructure for the duration of the contract period up until 2035. The award amount in excess of an estimated £13 Billion British Pounds.
AGD Systems CEO, Mark Daniels was quoted saying, "The (6) Tristar's were released from service with the United Kingdom Ministry of Defense (MoD) in March 2014. Following the MoD release, the aircraft are currently undergoing inspections to return them to civilian operation for military contract services, with the first one ready in June 2015. The aircraft will be offered to U.S., UK and NATO forces to support the very same operations and utilization for refueling, cargo, personnel and medivac missions globally." Daniels further stated, "This capability will put AGD SYSTEMS in a very unique business and much needed service, as more and more military services are being outsourced to commercial companies," said Daniels.
About AGD SYSTEMS Corporation
AGD SYSTEMS Corporation (AGD SYSTEMS www.agdsystems.com) is an emerging international company that focuses its business case in the transportation sector providing services to government and commercial industry. AGD Systems recently acquired AeroGroup Incorporated (AeroGroup www.aerogroupinc.com ) AeroGroup has been supporting military pilot training, research and development programs since 1999. AeroGroup was the first civilian commercial company to perform F-16 training programs in the Continental United States for the Dutch Air Force and OCONUS F-16MLU training for the Belgian Air Component. AGD Systems provides assets for military operations under government contracts, including; subject matter experts, consultants, logistics, technology design, testing, development, and research.
Contact
AGD SYSTEMS CORP
Doug Sharp
202.838.8066
www.agdsystems.com

Contact