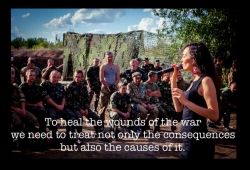 Los Angeles, CA, May 27, 2015 --(
PR.com
)-- Ukraine - having broken away from the former Soviet USSR many years ago with other countries, with the help of USA and numerous other countries that lost countless lives fighting for freedom - Ukraine is finally gaining freedom for all!
But... Ukraine is now the only country that has Russia is now trying to 're-take'. Ukraine does not want a Russian Dictatorship - they want freedom. And they seek the help of US Citizens during this fight.
www.helpukrainebefree.org
It is difficult for such a small country to defend themselves, but countries all over the world are jumping in to help (Sweden, USA, England, Germany, France, and many more). It is a sad situation... Over 3,000 Ukrainian soldiers have died trying to protect their freedom in a year. In a country that is already financially devastated, Ukraine was finally cleared to join the European Union (Europe's group of countries that England, Germany, Switzerland and over 20 other countries are a part of) that promotes freedom and free trade.
Not happy about this - Russia attacked over it, but claim they are not involved.
Ukraine Troops that put their lives on the line every day to protect their freedom. They don't have the USO like USA has for its troops to motivate and support and keep their spirit up.
But, they do have "Eyra". A well known singer, entertainer and more who has given up much of her profitable life to instead, show her support by performing for free to the troops - Right On The Front Line. She tirelessly donates her time and at her own expense to entertain troops right on the front lines. Not able to financially continue the charity of her time and paying all expenses for herself and others who join her to motivate the troops - she has resorted to using an American company called 'Kickstarter' that assist companies, individuals and charities with raising money - mostly in the USA.
Hilton Head Properties, a real estate investment company based in Los Angeles, California and it's President, Chase D. Fonteno jumped in to help support and recommended Eyra use the Kickstarter program to invite other US Citizens to also help.
Eyra and others take great personal risk being in a war zone - but her efforts help keep the troops motivated and give them a glimmer of hope during this crisis, knowing they may never make it home.
Eyra' and others in the program decided to approach the Citizens of the USA for help because most Ukrainians dream of the type of freedom that Americans have every day.
You can find more information on Eyra's project at www.HelpUkraineBeFree.org