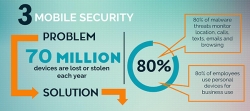 Vancouver, Canada, May 29, 2015 --(
PR.com
)-- To view the full report please go to CapitalNewsDesk.com
The U.S. government issued an executive order declaring cybercrime a 'national emergency' in April of this year. The Bureau of Industry and Security, a US government agency that deals with issues related to national security and high technology, is looking at possibly classifying hacking tools as weapons of war.
Estimates say that the global cost of cybercrime is $400 billion a year, yet in a recent survey of Canadian companies by Price Waterhouse Coopers, 42% of respondents said they have never conducted any formal cybersecurity employee training.
Ray Rothrock, the chairman and CEO of RedSeal, a cybersecurity certification company, who has been investing in cybersecurity for 25 years, recently stated "…the level of sophistication in cyberattacks has increased dramatically in just the past few years."
The war on cybercrime is in full swing and the good guys may not be on the winning end. New reports of data breaches hit the headlines every day, but the vast majority go unknown to the general public, many more are as of yet to be discovered. As with any war the collateral damage is immeasurable and the effect far-reaching.
A warning from a former U.S. Marines hacker and now consultant for TrustedSec, David Kennedy says "You're seeing the early warning signs of something larger to come that's going to be disastrous and change how we live day-to-day," "It's only a matter of time until we see a cataclysmic cyberattack. It'll be widespread and cause fear, panic, and a sense of hopelessness."
With the #1 threat to global businesses being B.Y.O.D. (bring your own device), the ripple effect of damage to companies and to personal security can begin with the weakest link. At present 80% of employees use personal devices for business use. As innovation for mobile devices and applications continues to develop, risk of threat at the enterprise level will increase. Velocity Data, VCT.CSE is a company continuing with the development of proprietary cybersecurity solutions software that protect mobile devices. CEO Adam Radley states "A large majority of the general population think that cyber security just means antivirus. There's much more to it than that. There is a long list of online activities that need to be locked down."
The Capital News Desk Cybersecurity Report 2015 outlines some of the key threats, trends, and opportunities within the sector. To view the full report please go to
CapitalNewsDesk.com