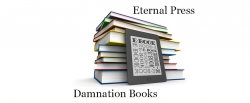 Santa Rosa, CA, May 29, 2015 --(
PR.com
)-- Damnation Books and Eternal Press will release new Titles on 1 June 2015. William and Kim Richards Gilchrist are pleased to release one title at Damnation Books and four titles at Eternal Press. These publishing companies are run out of Santa Rosa California and the owners strive to provide darned good fiction to readers around the world.
From Damnation Books -
One for the Road by Steve Soderquist
ISBN 9781629292885
Ratings: Sex - 1 Violence - 4
Genre: Horror Sub Genre: Suspense
Blurb: One Road—one Destiny—two men.
Two men and one road; lives forever changed and not for the better. Mark and Kevin leave two bars late at night and come face to face with a horror so indescribable that only Hell can say what is next. You will not like the answer. Fasten your seat belt if it makes you feel any better. It doesn't make a difference.
From Eternal Press -
Fallen by Rochelle Karina
ISBN 9781629292663
Ratings: Heat - 3
Genre: Contemporary Women's Sub Genre: Thriller
Blurb: She gave up everything to find herself, and gained even more.
Serena McClure walks away from a controlling husband and into the unknown. With nothing more than a good job and her will to get out, she faces obstacles and challenges.
It is a journey of trust and growth as she learns to lean on her friends, and comes to understand her own strength. And a journey of love and lust, unlocking Serena's long-dormant desires and unleashing her passionate nature. She must let go of her past and embrace love.
Kissing Bullets by K.Z. Riman
ISBN 9781629292762
Ratings: Heat - 3
Genre: Romance Sub Genre: Suspense
Blurb: Kaidence lives in the fast lane as beguiling supermodel Kaige Dravine.
What she hides behind her closet, though, are not just her signature clothes. She hides her real self.
With an attempt against her life, Kaige is convinced that her days are to end with a death similar to that of her murdered mother. She struggles then to find happiness and freedom.
In a much tighter shift, though, her new personal bodyguard, Assistant Inspector Andrew Bonafante, doesn't let it happen. How far Kaige is willing to go to grasp her adventure means revealing her secrets and exposing her heart to the secretive Andrew. What more will she risk, when having Andrew's love means forcing them both to decide who takes a bullet for whom?
Knockout Rosegarten by Beth Bishop
ISBN 9781629292601
Ratings: Heat - 3
Genre: Dark Fantasy Sub Genre: Vampire
Blurb: BH keeps running hot and cold... and Camellia just keeps running.
In Atlanta, Camellia is back in the assassin business with BH. Tension hangs heavy between them, but it will not get in the way of the job or plotting revenge on the Lombardis.
When arena scout Omora calls in BH's first debt, BH chooses Camellia as his second. Camellia believes the fight is a ploy for Omora to reveal her identity and location. If so, vampires nationwide would know as well.
The day after Christmas, Camellia learns that someone nasty has already figured it out.
unvamped by Elizabeth Stevens
ISBN 9781629292700
Ratings: Heat - 2
Genre: Young Adult Sub Genre: Paranormal
Blurb: Would you accept yourself to find your humanity?
Ellie Cooper comes from a long line of witches but wishes she could be normal. When she nearly kills herself cursing a vampire, her dislike of her heritage deepens. She must find a way to accept her magic or forsake her family.
After feeding on a witch, 693-year-old vampire Charles Dumphrey wakes to find he is living a human teenage life, complete with parents, school and girls. He must adjust to his new life as a human and find a way to break the curse Ellie put on him.
Lee is a werewolf who is not yet shifting regularly. He worries about who he will be when he regulates. Lee searches for the balance between his humanity and the wolf before the wolf takes over.
All three have to overcome their uncertainties and accept themselves in order to save Ellie's life.
Titles are released as trade paperback and e-formats to fit the most popular e-readers. Titles are also available at major e-outlets including Amazon & Kindle, Barnes & Noble, Nook, iTunes, Omni Lit, All Romance and others.
Review copies are available by email to
eternalpresspromotions@gmail.com
.
Find Us on Twitter: @eternalpress @damnationbooks
Follow Us on Facebook: Eternal Press
https://www.facebook.com/EternalPress
Damnation Books
https://www.facebook.com/pages/Damnation-Books/80339241586
Websites
http://eternalpress.biz
http://damnationbooks.com/