Amaryllo Security Robot, iCamPRO FHD, Receives 2015 Computex Best Choice Award and D&I Award
The leading security robot company wins the trending SmarTech top honor for two consecutive years.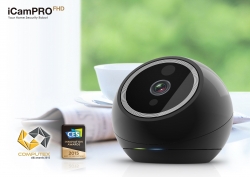 Amsterdam, Netherlands, May 31, 2015 --(
PR.com
)-- Amaryllo International B.V. (Amaryllo), founded in Amsterdam, the Netherlands,
announces that it receives 2 top awards at Computex 2015. iCamPRO FHD, top winner of the Best Choice (BC) Award under "SmarTech" category, is world's first intelligent home security robot able to track intruders at full 360 degrees and even in complete darkness. The iCamPRO FHD has also won the D & I Award for its aesthetics and innovations. Amaryllo has been the recipient of the Best Choice Award under SmarTech category two years in a row.
iCamPRO FHD is highlighted by its real-time all-direction object tracking function to safeguard home security. The patent-pending technologies employ multiple motion sensor networks around the device to provide location information to the embedded CPUs to steer the camera to the detected area without the aid of remote computers. This innovative approach significantly cuts the cost of installing multiple surveillance cameras with expensive remote super computers. With built-in infrared LED lights, iCamPRO FHD can lock and track moving objects even in complete darkness. The real-time tracking technologies are only found in military or expensive high-end surveillance systems. Amaryllo iCamPRO FHD is the first domestic security robot to offer professional real-time auto surveillance capacity at an affordable price.
"The high-quality optical lens and a full HD 1920 x 1080 resolution image sensor yield a needed image detail to be gridded into 2,000-plus small pixel blocks to accurately determine object's location over 30 feet. This means that if you mount it on the ceiling in a room it can follow intruders for a total distance of over 60 feet," said Kevin Pothoven, assistant manager at Amaryllo. Amaryllo is the first company developing and marketing smart home security products with WebRTC technologies. By employing world's best 256-bit encryption, consumers' privacy is well protected. "What makes Amaryllo products so special is that they can be remotely upgraded, thereby constantly making our products smarter and smarter-- something unique and unseen in the industry," said Nicolas Pinguet, sales manager at Amaryllo.
Amaryllo will demonstrate its award-winning home security products at booth G0466, Hall 3 at Computex 2015 from Tuesday June 2 to Saturday June 6, 2015. To reserve a private product demonstration or to receive product details, please contact Amaryllo at sales.ai@amaryllo.eu. For product information, please visit our website at www.amaryllo.eu.
About Amaryllo International B.V.
Amaryllo International B.V. (Amaryllo) is a worldwide leading intelligent home security robot company. Founded in Amsterdam, the Netherlands with facilities in Asia, Amaryllo develops award-winning home security products and is a licensee of Apple MFi, Windows Developer, Google Play Developer, AAC+, UPnP, Bluetooth SIG, etc.
540 Singel, 1017 AZ, Amsterdam, the Netherlands
T: +31 208941387
F: +31 208941333
sales.ai@amaryllo.eu
www.amaryllo.eu
Contact
Amaryllo International B.V.
Kevin Pothoven
+31208941387
www.amaryllo.eu

Contact