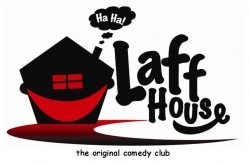 Philadelphia, PA, June 01, 2015 --(
PR.com
)-- Laff House Comedy Club, the renowned comedy club in Philly, is reopening on Thursday, 4th June, 2015, inside The Prince Theater, 1421 Chestnut Street, Philadelphia PA 19102 with a solid grand opening show. There will be one show Thursday June 4, at 8pm and two shows Friday June 5, and two shows Saturday June 6, 2015 at 8:00pm and 10:00pm. This initiative is taken up by the Laff House Comedy Club, with the aim of strengthening its roots of comedy.
The Laff House Comedy Club is regarded as a reliable comedy club which was closed three years ago. The Laff House Comedy Club ran successfully for over twenty years in the historical south street section of Philadelphia and has been regarded as a prominent landmark; it was the home of some great comedians Kevin Hart, Michael Blackson and other well renowned comedians.
A dedicated follower commented, "Laff House is the best place for passing leisure times, enjoying a comedy show."
Laff House Comedy Club is, organizers believe, rendering recreational services which they put in first place for the people of Philadelphia and so they really enjoy their comedy shows. The club is rejuvenating and it's being redeveloped so we all can laugh again.
The Laff House Comedy Club is inviting all to their upcoming comedy shows, tickets will be affordable. To date they have over a million followers who are waiting to see the best comedy show. It is the opinion of their followers that being a part of this popular comedy show is really a matter of luck.
Laff House Comedy Club has global followers and members from different sectors of the world who have been enjoying their finest comedy shows for a long time.
So please come and join us for some top notch entertainment, with loads of laffs.
To know more please visit http://www.laffhousecomedyclub.com
Follow us on Twitter: www.twitter.com/laffhousephilly