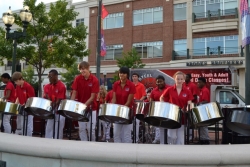 Norfolk, VA, June 04, 2015 --(
PR.com
)-- Twenty high school students in Norfolk, Virginia's Mosaic Steel Orchestra have been invited to compete this August at the International Conference and Panorama in Trinidad.
These steelpan musicians are from 12 different schools in Chesapeake, Newport News, Norfolk, Portsmouth and Virginia Beach and this is their first competition on the international stage.
"In fact, this is the first time many of these students have ever travelled beyond Hampton Roads," said Mosaic founder Dr. Anthony Hailey. "This trip is as much about the cultural experience and personal growth that comes from traveling as it is about the competition."
Mosaic received a grant from the U.S. Embassy to help defray travel costs but there is still more to raise.
On Saturday, June 13 from 10:00am – 2:00pm, Mosaic will officially announce its participation in this international competition with a free outdoor concert at the Attucks Theatre. In addition to the traveling youth ensemble, all Mosaic steelpan students will perform – ranging in age from seven to 70.
"The purpose of the event is to showcase our music and invite the public to support the band's efforts and celebrate the achievements of these students," continued Hailey. "I can't think of a greater symbol of the success in their personal and musical lives than to be invited to Trinidad not just to compete but to see where our instruments are made and experience traveling in another country."
There will be opportunities to make donations at the event.
What: Mosaic Steel Orchestra Concert
When: Saturday, June 13 -- 10:00am – 2:00pm
Where: Attucks Theatre, 1010 Church St., Norfolk
Cost: Free
More about Mosaic: Dr. Anthony Hailey founded Mosaic Steel Orchestra in 2007 as a way to give young people the opportunity to develop the tools they need to overcome life's challenges by building self-confidence, discipline, teamwork and community through music. Headquartered in Norfolk, Virginia Mosaic is a 501c3 not-for-profit corporation and provides out-of-school time steelpan ensembles in Norfolk, Portsmouth and Suffolk. www.MosaicSteelOrchestra.org
Photo Caption: The Mosaic Steel Orchestra performing at Town Center Virginia Beach in July 2014. The two musicians in the center, Taylor Simon and Samara Hailey from Virginia Beach and Norfolk, respectively, are among the students traveling to the International Conference and Panorama in Trinidad this August. Photo courtesy of Mosaic Steel Orchestra.