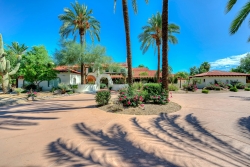 Scottsdale, AZ, June 15, 2015 --(
PR.com
)-- Shawn Shackelton & Josie Pakula Sell Wolf Springs Ranch for $6,807,400.
Shawn Shackelton & Josie Pakula of Ventana Fine Properties sold 10+ acres of Wolf Springs Ranch for $6,807,400 in 2015 which is the highest priced horse property sold in Scottsdale in over 8 years, per ARMLS. Shawn & Josie of Ventana Fine Properties are the local experts when it comes to luxury property in Scottsdale, AZ and the surrounding area. They also specialize in larger horse properties.
Clients that have worked with Shawn in the recent past give her rave reviews. Bob & Maryann M say, "We interviewed a few different real estate agents but when we met Shawn she was a breath of fresh air! She answered all our questions, returned our phone calls and walked us through the entire process. Not only did she help us sell our home in 4 days, she helped us buy our next home and we only had to move once. We had not bought or sold a home in quite a few years and the process has changed dramatically, we are glad we had Shawn there to help every step of the way. We highly recommend her whether you are buying or selling a home.
Josie's clients also give her rave reviews, M Kasianko said this, "Josie did an absolutely tremendous job of finding us the perfect home, in the perfect location. As an out of state buyer, her local knowledge was crucial to us finding the right neighborhood/school for our family. Through the search/purchase process, Josie always responded to our questions/concerns immediately and honestly."
Wolf Springs Ranch sits along the highly desirable Cactus Corridor and is a privately gated property. The backdrop of the McDowell Mountains gives this luxury equestrian property a spectacular view. Extras include a diving pool, cabana, tennis courts, and all the essential equestrian accoutrements. Two homes on the property total more than 6,836 square feet. This property is the definition of luxury living in Arizona and is breathtakingly beautiful and built with a great attention paid to every detail.
Scottsdale, AZ has many premium properties and horse properties available. According to www.areavibes.com Scottsdale has a high livability score of 84, with great weather, many amenities, and good schools. Scottsdale is ranked as the #2 place to live in Arizona and #478 in the United States. The housing market in Scottsdale is stable and 69.2% of all homes are owner occupied.
Shawn Shackelton has been a licensed REALTOR® for the past 17 years. She has worked with high-end and luxury homes in the communities of Lake Tahoe, Flagstaff, and North Scottsdale. Shawn understands the complexities involved in pricing, selling, and buying one-of-a-kind properties. She knows the Scottsdale area well and works tirelessly to help sell or buy the home of your dreams. Shawn has sold over $920 Billion in real estate in her career. Shawn also holds three prestigious certifications and designations; she is a Certified Negotiation Expert, Certified Luxury Home Marketing Specialist & Million Dollar Guild member as well as being a GRI (Graduate Realtor Institute). You can also find Shawn at
www.shawnshackelton.com
Josie has been a licensed REALTOR® for the past 5 years. Josie understands the ins and outs of real estate investing in it herself prior to have her license. Her knowledge of pricing as well as listening to her clients so they purchase in the right location for them is profound. Her care for her clients is evident. Josie also holds 2 prestigious certifications and designations; she is a Certified Negotiation Expert as well as being a GRI (Graduate Realtor Institute). You can also find Josie at
www.josiepakula.com
If you have any questions, would like more information, or would like to speak with Shawn, contact her at (480) 734-7277, or visit Ventana Fine Properties at
www.azluxuryhomeandhorse.com
Contact: Shawn Shackelton
Ventana Fine Properties
(480) 734-7277
www.azluxuryhomeandhorse.com