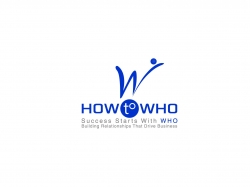 Hartford, CT, June 10, 2015 --(
PR.com
)-- How To Who, Inc. is releasing two new online packages for building business relationships. The new downloadable programs, Quick Results Communications Package and Relationship-based Sales Package, enable companies and individuals to learn and apply the How To Who tools and techniques. Users say, "It's a treasure trove, brimming with effective communication tools that support building new relationships as well as improving the ones you already have" and, "It takes my sales ability to a whole new level."
Previously, all How To Who programs have been in-person custom workshops. First introduced in Connecticut, the workshops have been so well received that How To Who created these program packages so individuals and organizations anywhere could discover how to leverage their relationships to drive results.
Program packages include the Quick Results Handbook and the Relationship-based Sales Program Workbook. Each package includes 6 months of weekly Coaching Calls, where participants can call How To Who to discuss any relationship issue or learning they are working on. The packages also include 6 months of member-only access to articles and private webinars. "Developing advanced communication and relationship skills take time. We've designed these packages to provide personal support to our program participants," said Ken Cook.
How To Who, Inc.'s Ken Cook and Candis Cook have more than 60 years' combined experience coaching businesses of all sizes—from Fortune 500 companies to early-stage businesses—in marketing and sales, leadership development, team-building, bridging silos, innovation, and implementation. Their How To WHO programs are designed to help clients identify and prioritize building relationships that will improve business.
For more information on How To Who, Inc. workshops, coaching or speaking engagements, visit www.howtowho.com or contact kcook(at)howtowho.com or 617-512-1838.
About How to Who:
How To Who is the leading expert in tools that identify and develop effective relationships, and building business through those relationships. How To Who offers the expertise, tools and processes that make relationships successful, including leadership tools for managing business through the lens of relationships.