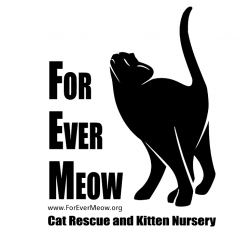 Palm Desert, CA, June 10, 2015 --(
PR.com
)-- FoEverMeow Awarded Grant from Best Friends Animal Society®.
Support for Kitten Nursery will save the lives of underage kittens in Coachella Valley shelters and help accelerate the goals of NoKillCV.
ForEverMeow is pleased to have received a grant from Best Friends Animal Society for its Kitten Nursery to help save the lives of underage kittens in Coachella Valley.
ForEverMeow participates in Best Friends' No More Homeless Pets® Network, a program offering financial and technical support to shelters, rescue groups, and other grassroots animal welfare organizations saving lives in their communities.
"This grant allows us to protect the most vulnerable kittens that enter our shelters," said Leigh Kirk, President and Co-Founder of ForEverMeow. "Our goal will be to rescue and adopt out 150 kittens to loving families. We appreciate the support of Best Friends Animal Society in making ForEverMeow Kitten Nursery possible and moving us towards a NoKill community in Coachella Valley."
Liz Finch, senior manager of Best Friends' National Programs, added, "This grant project aims to increase the number of animals safely leaving local shelters. It's in alignment with Best Friends' determination to Save Them All®." Every day, more than 9,000 pets are killed in shelters across America simply because they don't have homes. Best Friends Animal Society and its No More Homeless Pets Network partners, including ForEverMeow, are committed to saving them.
ForEverMeow works in close collaboration with Riverside County Department of Animal Services and Palm Springs Animal Shelter.
"We are extremely excited to partner with ForEverMeow and are thrilled at the ability to save more lives!" noted Frank Corvino, Deputy Director, RCDAS and Co-Chair of NoKillCV. Dr. Shayda Akamhi, Director of Palm Springs Animal Shelter and Co-Chair of NoKillCV added, "Coachella Valley needs a leading-edge kitten nursery like this, and we are proud that it is here to serve the whole community and protect these vulnerable kittens."
About ForEverMeow
ForEverMeow is a 501(c)(3) Cat Rescue and Kitten Nursery.
Its mission is to "help end the unnecessary euthanasia of cats in Coachella Valley". www.forevermeow.org or on Facebook ForEverMeow and Twitter @forevermeow
About Best Friends Animal Society
Best Friends Animal Society is the only national animal welfare organization focused exclusively on ending the killing of dogs and cats in America's shelters. A leader in the no-kill movement, Best Friends runs the nation's largest no-kill sanctuary for companion animals, as well as lifesaving programs in partnership with rescue groups and shelters across the country. Since its founding in 1984, Best Friends has helped reduce the number of animals killed in American shelters from 17 million per year to about 4 million. By continuing to build effective initiatives that reduce the number of animals entering shelters and increase the number who find homes, Best Friends and its nationwide network of members and partners are working to Save Them All.
Become a fan of Best Friends Animal Society on Facebook http://www.facebook.com/bestfriendsanimalsociety
Follow Best Friends on Twitter: http://twitter.com/BFAS
Contact: Leigh Kirk
President and Co-Founder
ForEverMeow, Cat Rescue and Kitten Nursery, +1 (760) 335-6767
leigh@forevermeow.org