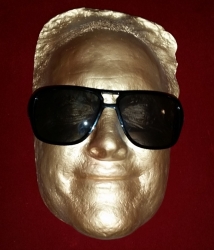 Hollywood, CA, June 12, 2015 --(
PR.com
)-- Memorabilia and Bruce Jenner, the past is in the news every day!
But few know of this! In 1998 an exact face sculpture was created in stone of Bruce; a one of a kind face sculpture, soon to be on eBay!
There was a time hopes were high, times were good. Back in 1998, Joseph Malara then known as "The Artist of the Stars" had dreams of opening a Museum, a unique one, teaching through TV monitors, memorabilia, artifacts including Malara's hand or face sculptures; created through a casting system developed by Malara; all to be on Gallery display.
This Museum was to educate many; to those who came before us, those who made an impact, paving the road for many, in some positive way. The list of the personalities Malara captured and created in solid stone, looks like a "who's who" list of the rich and famous.
Malara created his three dimensional, one-of-a-kind solid stone legacies detailed to reveal even his client's fingerprints. While living in Florida, he made countless trips by appointment to celebrities homes.
His hopes were high, but he could not fit the bill to cessation and the Gallery never happened. Now 17 years later, Malara has finally come out of retirement to create again! He is pulling out of storage his priceless art pieces, placing his entire irreplaceable collection on the market! Said sculptures will include pictures, signed Authenticity Authorization forms, and fingerprinted proof of each celebrities' exceptional sculptures! www.CelebritySculptures.Com