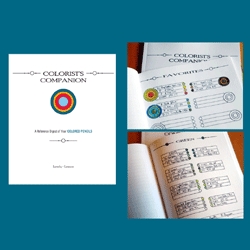 Orange County, CA, June 13, 2015 --(
PR.com
)-- The hobby of coloring, by adults, is a phenomenon that has exploded in the last six months, with coloring books reaching best seller status on Amazon, and Facebook coloring groups growing daily.
The audiences for these books are fully enjoying the recapturing of a youthful pastime, while exploring the hobby with the sophistication of an adult – looking books with intricate and attractive drawings, researching products and organizing tools.
Lovely Leisure Coloring Books has released a 2 book series 'Colorist's Companion' that fills the desire by many of these enthusiasts to organize and coordinate their coloring pencils, pens and markers.
The "Colorist's Companion" books facilitate a place to review what the colors look like on paper and record favorite color combinations. These professionally bound volumes - coloring books themselves, work as a source document for colorists, that can be stored handsomely with the rest of a devotee's books.
Readily available for purchase through Amazon, and available wholesale, the "Colorist's Companion" consists of two designs – one designed specifically for pencils, the others for markers. Each volume runs $5.99 – the price of about one quality marker.
Lovely Leisure is a coloring book publisher, specializing in coloring books for adults. Five multi-volume coloring book series include a range of simple to complex patterns featuring collaged and patterned florals and coloring mandalas. For more information, please visit
www.lovely-leisure.com