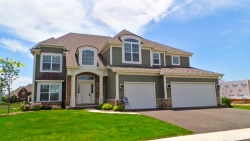 Elburn, IL, June 17, 2015 --(
PR.com
)-- Three new homes are under construction at Blackberry Creek in Elburn and will be available for move-in this summer just in time for the school year, according to the builder Shodeen Homes.
"Families want to make their move during the summer months and begin the new school year settled in their new home," said Craig Shodeen, President of Shodeen Homes. "These three homes at Blackberry Creek offer a lot of home for the money. We've included a lot of nice upgrades and extras, making them one of the best new construction values available in the western suburbs."
The Newberry is a new ranch style home featuring a spacious Great Room that flows into a large kitchen. Priced at $335,011, the Newberry is available for summer move-in and has three bedrooms, two baths, and a three-car garage in 2,089 square feet of living space.
"This is one level living at its finest," added Shodeen. One of the many benefits of the Newberry is the open layout and the space in the full basement. This home can accommodate anyone's style of living with over 2,000 square feet in the basement that can be used for additional finished square footage living space or storage."
The Canterbury two-story design at Shodeen Homes' Mill Creek community and will also be ready for summer move-in. This four-bedroom three and one-half bath home offers a spacious gourmet kitchen with granite countertops, a custom staircase, stone fireplace, upgraded trim and a three-car garage in 3,311 square feet of living space. The Canterbury has an impressive custom exterior and is priced at $457,108.
A third home, the Augusta two-story design, is under construction with an August delivery time frame. With four bedrooms, two and one-half baths and 2,300 square feet of living space, the Augusta is priced at $317,648. The purchaser of this home still has time to make modifications and personalize this home according to Shodeen.
Shodeen added that homeowners will enjoy all the advantages Blackberry Creek offers as an attractive, established community with a wide variety of custom home styles set amid parks and playgrounds, walking trails with all of the conveniences available along Randall Road just a short ride away.
Besides the early move-in homes, Shodeen Homes is offering seven floor plans including a ranch and six two-story semi-custom home designs, each available with three exterior elevations enabling over 21 different possibilities with the many exterior color and material choices available. Homes sizes start from 2,215 square feet for three bedrooms and two baths up to 3,356 square feet for four bedrooms and three and one-half baths. Homesite frontages are generous and range from 75' to 85' wide. Base prices currently range from $276,370 to $391,372 (all prices subject to change without notice) at Blackberry Creek.
Future plans call for Shodeen Homes developing and building homes at its Elburn Station community, located across Keslinger Road abutting the Metra Commuter Rail Station, north of Blackberry Creek in late 2015. Phase I of Elburn Station will consist of 112 homesites with 50-, 60-, and 70-foot frontages.
Blackberry Creek homeowners will appreciate the new Anderson Road overpass which is under construction and on schedule to be completed this summer. The overpass will provide a bridge for pedestrians, bicyclists and vehicles over railroad tracks that until then divided the village. The Anderson Road Bridge will connect Route 38 on the north and Keslinger Road on the south.
Blackberry Creek Elementary school is an added benefit being walking distance within the community. Harter Middle School and Kaneland High School are the other schools within the highly-regarded Kaneland 312 School District for school age children to attend from Blackberry Creek.
The new Elburn Metra station is nearby as is charming downtown Elburn. The Randall Road Corridor is minutes away with just about every shopping and dining option imaginable. Golfers have many options too, namely, Hughes Creek Golf Club, Tanna Farms, and Mill Creek Golf Club all nearby.
Shodeen Homes is a privately owned; Geneva-based home building company founded in 1961 by Kent Shodeen. Shodeen Homes is one of the Shodeen family of companies comprised of new homes, hospitality, office, retail and property management services. Today, for over 50 years, Shodeen Homes remains family owned and operated and is currently building at Mill Creek and Seventh Street Terrace Townhomes in Geneva; Reston Ponds in Sycamore; Blackberry Creek in Elburn and The Row Homes of Fontana in Fontana, WI. Future new home communities are planned for Elburn Station in Elburn and Pingree Creek in Elgin.
Blackberry Creek sales will be conducted at the Mill Creek Sales and Design Center located at 0N305 North Mill Creek Dr. in Geneva, only an eight minute drive from Blackberry Creek. To reach the center, take Randall Road to Fabyan Parkway; head west on Fabyan to North Mill Creek Drive; turn North onto North Mill Creek Drive and follow the signs north straight to the sales center. For more information about Mill Creek or any of its neighborhoods or homes available call 630-232-8181, e-mail info@shodeenhomes.com or visit www.ShodeenHomes.com.
Image caption: The Canterbury is a four-bedroom three and one-half bath home offering a spacious gourmet kitchen with granite countertops, a custom staircase, stone fireplace, upgraded trim and a three-car garage in 3,311 square feet of living space. The Canterbury has an impressive custom exterior and is priced at $457,108 at Blackberry Creek in Elburn.