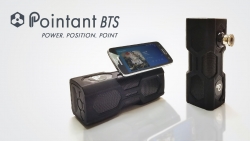 Tampa, FL, June 25, 2015 --(
PR.com
)-- Point Enterprise has created the Pointant BTS; a smart bluetooh speaker, with the intent to bring powerful technology on the go. "I have tried just about every mobile speaker on the market....but my biggest headache always has been the power," says Rick Jennings; Pointant founder.
Pointant BTS was conceptualized around 3 major goals. The first goal was to provide not only substantial power for the speaker, but also the ability to charge mobile devices on the go. The Li-ion battery can deliver up to 12 hours of playtime for the speaker and a vast selection of mobile devices.
The second goal was to create flexible and hands-free positioning. Magnetic mounts provide the user a way to position the speaker hands free. A second magnetic mount secures the user's mobile device and swivels freely for viewing in any direction.
The third and final goal was to make the speaker smart. Point Enterprise has developed a mobile app which communicates directly with the bluetooth speaker.
In addition, a Point on the speaker that automates actions that users typically have to punch into their mobile device. Changing mobile settings, connecting bluetooth devices, playing music or launching applications can done with one simple swipe of the Point.