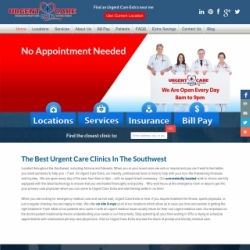 Mesa, AZ, June 26, 2015 --(
PR.com
)-- At the front of the pack when it comes to fast and innovative health care, Urgent Care Extra is expanding yet again. As more offices open and more people are being given incredible care throughout Arizona and Nevada, a new branch of Urgent Care Extra is making its way into the world in the form of a
brand new website
.
For the past decade, the staff members, nurses, and doctors at UCE have been showing people that the emergency room is not the best option for most cases of sickness or injury. Rather, a ground-breaking healthcare structure called urgent care is the solution for non-life-threatening health situations. Since its opening, Urgent Care Extra has been a leader in quality healthcare and excellent patient-doctor relationships. Their new website is an exciting step forward, so let's take a look at what it has to offer.
The entire website will be user-friendly, making it easier than ever to learn about UCE, connect with them on social media, and browse through important health topics in their new and improved blog. Probably the best part of the new website is the locator functionality. Users will be able to utilize a location-based, "find a clinic near me" tool to help them locate the closest Urgent Care Extra in just a matter of seconds. The new website will also offer extra savings which will list "extra savings" available for use in clinics including savings on prescriptions, weight loss and student physicals.
Some of the same great features from the previous website will still be available, including the ability to access new patient forms, making check-in faster. The ability to pay bills on the website, and our feedback form to help UCE improve even more. You can also access a complete list of insurance carriers that support UCE, so you can know ahead of time how your insurance will help out with your Urgent Care Extra visit.
Additionally, the new website will have a great deal of information on the various services that Urgent Care Extra offers to their patients. Some of these services include onsite X-rays, UCE MyLab (which helps uninsured and high deductible patients receive necessary lab work at an affordable price), low cost medicines (which UCE can usually fill in-house), medical weight loss, and annual physicals, as well as urgent care for those with unplanned injuries or illnesses.
Urgent Care Extra's website will also have a Careers page so that those interested in employment at one of their facilities can learn more.
The new and improved UrgentCareExtra.com is sure to be a great resource for you and your family when you need medical attention or information.