ITW Trans Tech Introduces StarLight Laser Plate Maker
Direct-to-plate pad printing clichés can now be made using the StarLight LPM laser plate maker from ITW Trans Tech. The simple yet efficient CO2 laser device produces ready-to-use, high-quality cliché plates with etched images of artwork for a wide range of product decorating applications.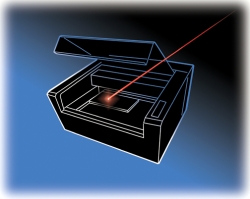 Carol Stream, IL, November 30, 2007 --(
PR.com
)-- The compact but functional design enables rapid creation of laser clichés for short or long production runs within pre-set parameters: solid, screened and four-color process. Its user-friendly input uses an easy-to-use software that makes importing of graphics and positioning of images on the plate visible and intuitive with minimal learning curve required.
Finished clichés are ready to use in pad printing machines without further processing; no washout chemicals are necessary. The high-resolution StarLight laser images ensure crisp pad transfer and consistency.
The 5 amp unit has a computer interface which includes specific settings for etching three categories of images onto StarLight plate material. The device works in conjunction with the print driver on Microsoft Windows XP software and requires a dedicated computer with USB port (not included). To print with driver, Corel Draw X3 software is recommended (not included).
In addition, external venting is required: exhaust system must be capable of supplying minimum of 150CFM airflow while under load of six inches of static pressure (254 m3/hr. at 1.5Pa).
For further information, visit the website at www.itwtranstech.com or phone 630.752.4000. ITW Trans Tech is an Illinois Tool Works Company.
Founded in 1979, ITW Trans Tech designs, fabricates and supplies complete product decorating solutions through the application of equipment, consumables and services to a wide range of industries. The Ilinois Tool Works (ITW) company offers a full line of standard pad printing machines as well as custom automated systems to manufacturers of medical devices, automotive components, sporting goods, appliances, hand tools, communications, and plastic injection molders. ITW Trans Tech provides a single source of consumables, including: silicone pads, printing plates, specially formulated inks, and other printing supplies and accessories.
The company continuously supports its products and customers with an experienced team of service experts– largest in North America.
###
Contact
ITW Trans Tech
Christopher Connell
630 752-4000
www.itwtranstech.com

Contact