Polylast Systems, LLC Announces New Flooring with Microban® Antimicrobial Technology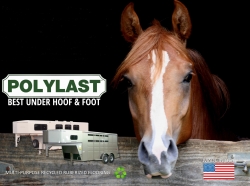 Scottsdale, AZ, June 27, 2015 --(
PR.com
)-- Scottsdale-based, Polylast Systems announced today, that it has partnered with Microban®, the nation's leading antimicrobial technology company, to create an antimicrobial solution for its flooring systems. Polylast manufactures a seamless, 100% recycled rubber flooring that provides safety and comfort for horses, cattle, dogs, and yes, even humans. Now added to that flooring system is, Microban®, an antimicrobial technology that is infused into, and throughout, the patented Polylast system during the manufacturing and installation process, to help prevent the growth of damaging bacteria, mold and mildew. Additionally, the antimicrobial attributes also reduces odors and make cleaning and maintenance of the infused surfaces easier.
Founder, Pete Laurence, said "Polylast was founded on the guiding principles of comfort, safety and enhanced performance for horses, and now add to that, the 'game-changing' benefits of tested and proven antimicrobial protection, and we anticipate changing the way equine flooring is regarded in the industry." He continued with, "All animal surfacing installed by Polylast, as of July 1st, 2015, will have Microban® antimicrobial technology."
"It took four years, many hours of research and development, and a large group of talented people to make this happen," said Scott Gibson, Director of Business Development. He continued, "I have never been a part of something this exciting, or with as much potential."
In addition to livestock and pet surfacing systems, the company provides flooring solutions for boats and marine applications, parks and playgrounds, patios and pool decking, and more, where the mold, mildew and odor resistance of Polylast will be of tremendous value.
The company's website is www.PolylastSurfaces.com and to learn more about how antimicrobial product protection works, visit www.microban.com.
Contact:
Scott B. Gibson,
Director of Business Development
Polylast Systems, LLC
Office: 480-998-3033
scott@polylastsystems.com
www.polylastsystems.com
Contact
Polylast Systems, LLC
Scott Gibson
480-998-3033
www.polylastsystems.com

Contact