Shiva Shankaran Recognized by National Alliance of Male Executives-N.A.M.E.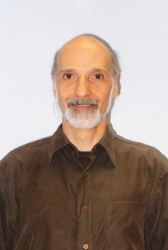 Brattleboro, VT, June 27, 2015 --(
PR.com
)-- Shiva Shankaran of Brattleboro, Vermont has been recognized by the National Alliance of Male Executives-N.A.M.E. for his outstanding contributions and achievements in the fields of spiritual development and self discovery.
About Shiva Shankaran
Mr. Shankaran has maintained a consistent spiritual practice for over 42 years practicing meditation and inner work for himself and others including clients and students, individuals and groups, who have sought advice, instruction and personal coaching. He has been the Proprietor of the Center of Awakening Truth since 1999 in Brattleboro, Vermont. Mr. Shankaran employs a variety of meditative and energetic healing techniques for the expansion of conscious awareness, heart expansion and development of further potential. He has amassed a considerable body of knowledge and understanding of subjects pertaining to consciousness and the development of deeper inner awareness and human potential. The central focus of his work is about self-actualization. He advises that to move forward to this goal, a variety of tools, techniques and processes are used, along with some basic approaches to personal honesty, openness and acceptance. Certain energy healing techniques can also be applied to help with emotional blockages that may be encountered throughout the process. As the mind and body are profoundly connected and interactive, often times there can be relationships between emotional and physical ailments, which can sometimes lead to relief of physical symptoms as well while the emotional side is being addressed and allowing for consciousness to heal according to its own nature, whatever that may be. The goal is to open the awareness to even greater possibilities in life and an increasingly heart centered way of living and being which allows for greater capacity for happiness and love in all aspects of living. As is common among much pastoral counseling work, an attitude of unconditional high regard and accurate empathy is employed with all his clients to maintain a safe, confident and non-judgmental environment and to maximize effectiveness and benefits throughout.
Mr. Shankaran is a member of the Brattleboro Food Co-Op. He will be releasing a book in 2015 titled "A Science of Consciousness."
Mr. Shankaran was born on November 11, 1952 in New York City, New York and obtained a B.A. in English Literature from St. Francis College in 1981 and a M.A. with honors in Religious Education/Spiritual Pastoral Counseling from Fordham University in 1984. He completed a Teacher Training Program in Transcendental Meditation Technique in 1977 and TM Governor Training Program in 1978. He earned a Certificate of Completion for Emotional Freedom Techniques (EFT) in 2002. Previously, Mr. Shankaran served as a High School Teacher from 1984 to 1986. He then sold educational materials and hearing instruments, both inside and outside of the office, from 1986 to 1997. He founded the Center of Awakening Truth in 1999 and also served as a Mental Health Worker/Counselor from 2005 to 2013. He worked with psychiatric clients in a clinical setting.
In his spare time, Mr. Shankaran enjoys arts, music, philosophy/metaphysics, spirituality, judicial and legal news, science, relationships and cosmology. Food is of great interest to him and he loves to cook.
About National Alliance of Male Executives-N.A.M.E.
N.A.M.E.® is a unique online association for male executives and professionals in all industries. This premium service and alliance recognizes male professionals who have achieved success as well as those looking to further their careers and expand their business opportunities by providing networking, advertising, marketing and entertainment services. For more information about their unique services and testimonials, visit their website at www.name-exec.com.
Contact
N.A.M.E.-National Alliance of Male Executives
Katherine Koop
516-272-4494
www.name-exec.com

Contact