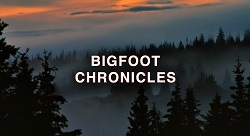 Medford, OR, July 19, 2015 --(
PR.com
)-- Tom Monson, writer and producer of "Bigfoot Chronicles" announced today the film released July 7, is exploding in popularity.
According to the film's distributor, Dan Garcia, "Thousands of copies have been sold at Walmart and Amazon."
According to Amazon's web site, supplies almost gone and prices listed on eBay are higher than retail.
"Bigfoot Chronicles" is the story of filmmaker Rock Thomson who has been hired by a coalition of North American Indian Tribes to write and direct a documentary film about Bigfoot. They believe a film about Bigfoot living in their forests could stop the planned clear-cutting of their sacred lands. While there, Thomson interviews several interesting characters who tell strange tales about the fury monster. One of them tells him about his own Bigfoot encounter, and adds how and where to find Bigfoot. The movie is packed with lore and actual accounts of Bigfoot sightings.
"I didn't want to make some cheesy science fiction flick, or a film to discount the potential reality of Bigfoot," Monson said. "'Bigfoot Chronicles' is a movie the entire family will watch as they enjoy learning about Bigfoot."
Even though the movie has some fun moments, its main theme is to finish what you start, and for Monson, this was to be his own story of finishing Bigfoot Chronicles.
"The shoot was a go. The schedule, locations, actors, crew, permits, props, and supporting services were all set, when I received news that rocked my world. I was diagnosed with cancer in my good eye. After the surgery, I was nearly blind in one eye and could hardly see out of the other," Monson mused.
Undaunted, Monson continued the project.
"Sure, I could have rescheduled. That would've been easy. I could still see well enough to direct the movie. I had come this far and I wasn't about to quit."
Midway through shooting, three key members of the production tried to renegotiate their contracts.
"'We have an agreement,' I told them but they didn't care. I just don't think they realized how hard it is to make a movie. Even though they left me high and dry, I didn't look at it that way. Sure, it was inconvenient, but that wasn't my real problem.
"It was six weeks after the eye surgery, and my sight was getting worse. I called longtime friend and filmmaker, Calvin Kennedy and he agreed to help me finish shooting the film," Monson continued.
Often independent filmmakers face financial challenges, and Monson was no exception.
"After we finished the principal photography, I ran out of money. I had to really hustle to get everybody paid," Monson said.
As if that wasn't enough, during editing, Monson faced a second bout with cancer.
"Sure, I've faced obstacles getting my movie done -- everyone does. That just makes Bigfoot Chronicles' success even better," Monson concluded.
"Bigfoot Chronicles" is available at Walmart, Amazon, and other locations. For the list and to see the trailer, go to
http://www.BigfootChronicles.com
.
Monson's company, Thomas Nash Productions, is an award-winning documentary production company based in Medford, Oregon.