Patricia L. Blake Recognized by Strathmore's Who's Who Worldwide Publication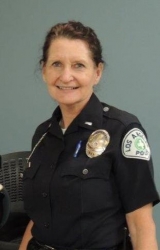 Agua Dulce, CA, August 15, 2015 --(
PR.com
)-- Patricia L. Blake of Agua Dulce, California has been recognized as a Professional of the Year by Strathmore's Who's Who Worldwide Edition for her outstanding contributions and achievements in the field of law enforcement.
About Patricia L. Blake
Lieutenant Blake has over 32 years experience in the law enforcement field. She is currently a Police Lieutenant for the City of Los Angeles Police Department, Valley Traffic Division. Lt. Blake has recently held the position of Acting/Assistant Detective Commanding Officer and Acting Patrol Commanding Commander.
Concurrently, Lt. Blake is the Officer in Charge of and is heavily involved with the LAPD Community Cavalry Rough Rider (CCRR) volunteer horse and rider unit which originated in the Foothill Area three years ago. This unique valley- wide program works hand-in-hand with local sworn cadre personnel. The CCRR have proven to be invaluable representatives of "good will" and public outreach, particularly with the local children who have embraced this program and look forward to interacting with both the riders and their horses. The CCRR strives for public outreach into the local community to enhance the public image and trust with local law enforcement, and a true partnership with the community. The CCRR has ridden with several Valley Council members and field deputies. They focus on safety, training and horse equine skills. Recently with the support of the LAPD Operations Valley Bureau Deputy Chief, the CCRR now covers the entire Valley Bureau with centralized Department resources of the Valley Traffic Division (VTD). This new Cavalry program centralizes Department resources and sworn support for the volunteer members and mobilizes and complements the specialized resources of VTD off-road bike details, motorcycle details, and traffic safety and education. Some of the CCRR responsibilities include search and rescue, park, dam and trail patrol, evacuation and emergency preparedness, high visibility "observe and report" theft prevention in the bigger parking lots, Color Guard presentation and parades.
Lt. Blake recently assisted with the implementation of the crime analysis, crime strategies and cutting edge predictive policing systems in place within the Foothill area. Foothill Area was number one in crime reduction and crimefighting of the 21 LAPD Citywide Divisions in 2012, 2013, and 2014.
Officer Blake worked field patrol in the Rampart Area from 1984 through 1993. She was the Officer of the Year for the Rampart Area in 1987; and was awarded the Meritorious Unit Citation as the Officer in Charge (OIC) of a hand chosen Special Problems Unit making the streets safer from gang and narcotics activity in the Wilshire Area in 1993. As a Sergeant, Blake was assigned the OIC of a Gang CRASH Unit at the Van Nuys Division from 1995 through 1999. Blake was assigned as a staff researcher for the Chief of Police in 2000 and as an Internal Affairs unit researcher prior to her promotion to Lieutenant in 2005.
Lt. Blake has participated over 10 times in the annual international law enforcement "Baker-to-Vegas" 120 mile relay run. Recently, she was recognized in Times Square, New York City on the Reuter's billboard. She is affiliated with the Los Angeles Women Police Officer's Association. Born in Oregon, she obtained a B.A. from California State University of Northridge and a M.A. in Organizational Leadership from the University of Phoenix. In her spare time she enjoys Church activities, racquetball, horseback riding and jogging.
About Strathmore's Who's Who Worldwide
Strathmore's Who's Who Worldwide highlights the professional lives of individuals from every significant field or industry including business, medicine, law, education, art, government and entertainment. Strathmore's Who's Who Worldwide is both an online and hard cover publication where we provide our members' current and pertinent business information. It is also a biographical information source for thousands of researchers, journalists, librarians and executive search firms throughout the world. Our goal is to ensure that our members receive all of the networking, exposure and recognition capabilities to potentially increase their business.
Contact
Strathmore Worldwide
Susan Perrault
516-677-9696
www.strathmoreworldwide.com
Syndi Reibman

Contact