BrushPearl Revolutionizes Makeup and Cosmetic Brush Cleaning with Ultrasonic Technology
Finally, modern technology has brought washing makeup and cosmetic brushes from scrubbing while standing over the sink to 21st century hands free cleaning. What are the advantages of ultrasonic cleaning over hand cleaning and why should you consider this one time investment? First of all, it's much easier and less time consuming and when a task is easier, you will do it more often.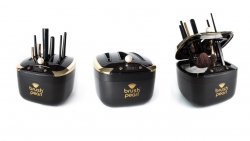 Salt Lake City, UT, August 24, 2015 --(
PR.com
)-- Makeup and cosmetic brushes should be cleaned at least weekly or bi-weekly for sensitive or breakout prone skin to promote proper hygiene. Dirty brushes can lead to blemishes and clogged pores. A properly cleaned and conditioned brush provides a smoother and streak free makeup application resulting in using less makeup and longer brush life.
What are some of the important features to look for in a modern brush cleaner?
1. Frictionless cleaning: The more friction that is applied to brush bristles when cleaning, the shorter their useful life. Ultrasonic cleaners produce high frequency vibrations through water to remove dirt and grime which is effective yet gentle to brushes.
2. Proper Drying: Brushes should remain perpendicular with the bristles facing downward so that moisture falls away from the base of the brush protecting the precious adhesives from deterioration. Air drying is the least damaging to brushes.
3. Versatility: Look for options like multiple cleaning and rinse cycles that can be adjusted depending on how soiled the brushes are and the ability to clean multiple sizes and quantities of brushes.
4. Cleanser: The cleanser should effectively clean and condition brushes. It should be free of harsh chemicals that can destroy brushes and could be unsafe for the skin.
5. Size: A compact unit for easy storage is always preferable.
Contact BrushPearl at www.brushpearl.com for more information.
Contact
BrushPearl
Katie Barnard
801 864 4051
www.brushpearl.com

Contact