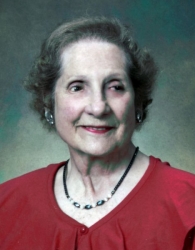 Gustine, CA, September 12, 2015 --(
PR.com
)-- Lorinne T. McKnight of Gustine, California has been honored with a Lifetime Achievement Award by Strathmore's Who's Who Worldwide for her outstanding contributions and achievements in the field of agriculture.
About Lorinne T. McKnight
Ms. McKnight has over 30 years experience in the agricultural field. She is the Owner of Taglio Ranch in California which produces and distributes walnuts and almonds nationally. She is primarily responsible for the bookkeeping. Her son, Maury McKnight, co-manages the ranch with her and also owns a spray business. Ms. McKnight was recognized by the Gustine Historical Society for contributions and helping others in the community. She also received the George Washington Award from the Freedoms Foundation at Valley Forge, was honored with "Lorinne McKnight Day" in 1977 and was awarded Woman of Distinction by the Gustine-Newman Soroptimists. In addition, she was honored as Woman of the Year by the National Association of Professional Women and was honored by the Gustine City Council. Recently, she was recognized in Times Square, New York City on the Reuter's billboard. Ms. McKnight was a Past President of the Native Daughters of the Golden West and of Y.L.I. and is an Honorary Member of the Daughters of the American Revolution. She is a lifetime member of C.T.A. and a member of N.W.P.A., the OLM Altar Society and the Gustine Historical Society. She was born on December 12 in Gustine, California and obtained a B.A. in Journalism from the University of California at Berkeley in 1946. In high school, she was selected to attend the first Girls State in Sacramento, California. Ms. McKnight began her career as a nurse's aide in an Oakland hospital. After graduation and the death of her Father, she returned to Gustine and worked as a telephone operator at the Crows Landing Naval Air Station during World War II. She joined the editorial staff of the Modesto Bee and wrote a weekly column of children's stories for the Sacramento, Fresno and Modesto Bee newspapers. After her marriage in 1951 to Elman, Ms. McKnight worked in the public information office at UC Davis where her husband attended college. She also published works in the San Francisco Examiner and Central California Register and published a "People You Should Know" column in the Cal Aggie magazine. Ms. McKnight then returned to Gustine to raise three children and worked as an integral part of the family business which she continues to co-manage today with her son. In addition, she taught primary grades for 21 years in the Gustine Unified School District and taught social studies at OLM school. She has volunteered her time to a variety of service organizations. Ms. McKnight was a Girl Scout leader, Catholic religious education instructor, county adult literacy teacher, Salvation Army bell ringer and is a docent at the Gustine Museum. She has been an interviewer with the Agape Food Pantry since its inception in 1991 and annually participates in the Newman Rotary Read-In. As a parishioner at the Shrine of Our Lady of Miracles, Ms. McKnight serves as a lector, sings in the choir and is a Eucharistic minister for the sick and homebound. In her spare time she enjoys travel, reading, gardening and oil painting.
About Strathmore's Who's Who WorldwidE
Strathmore's Who's Who Worldwide highlights the professional lives of individuals from every significant field or industry including business, medicine, law, education, art, government and entertainment. Strathmore's Who's Who Worldwide is both an online and hard cover publication where we provide our members' current and pertinent business information. It is also a biographical information source for thousands of researchers, journalists, librarians and executive search firms throughout the world. Our goal is to ensure that our members receive all of the networking, exposure and recognition capabilities to potentially increase their business.