Premier Displays & Exhibits, Inc. Announces Launch of GreenExhibit® Program
Premier Displays & Exhibits, Inc. of Orange County, CA. launches GreenExhibit® program, developed to provide environmentally-responsible trade show exhibits and retail environments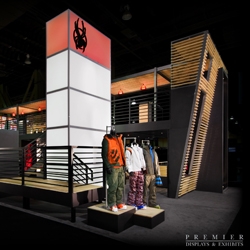 Cypress, CA, December 07, 2007 --(
PR.com
)-- Premier Displays & Exhibits, the Orange County, CA-based firm specializing in the design and fabrication of large-scale trade show exhibits, events, and retail environments announces the launch of a new environmental responsibility program called GreenExhibit®. The program is designed with the The Leadership in Energy and Environmental Design (LEED) Green Building Rating System™ in mind. The system utilizes four specific dimensions to create environments that not only incorporate LEED accredited materials but also incorporates fundamental processes during the design and construction phases that are environmentally responsible.
The basis of the program relies upon four main elements: recycled/salvaged content, overall design sustainability, production process waste optimization, and recycling of exhibit at decommissioning. Each of the four program elements is designed to address a current shortfall associated with conventional exhibit design, fabrication, transportation and handling relative to the known impact of these activities on the environment.
Brad Lott, Account Executive at Premier Displays & Exhibits, explains: "Our GreenExhibit® program is the first of its kind in an industry which could benefit from a narrative about waste. After looking at the markets and the big picture we realized that we could indeed make a difference. We have been getting requests for this type of project for years now and have produced quite a few "green" projects as far back as the 1990's; the primary purpose of our program is to persuade others in the industry to follow our lead."
For more information on a Premier Displays & Exhibits GreenExhibit® booth please contact Brad Lott at 562-598-5000 or email bradlott@premierdisplays.com
###
Contact
Premier Displays & Exhibits, Inc.
Brad Lott
562.755.1621
www.premierdisplays.com

Contact