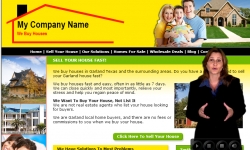 Plano, TX, September 09, 2015 --(
PR.com
)-- A real estate investing company that also develops real estate investor websites, www.RealEstateInvestingWebsites.com, has released more SEO friendly, responsive designs that render automatically both on computer and mobile devices.
In today's mobile world, real estate investors can now manage their business from their mobile devices wherever they are.
The websites are created to attract leads hands-off through advanced search engine optimization. Once a person lands on the website, they get actively engaged so that they are compelled to take a call to action activity. This increases conversion from cold leads to prospects that show active interest.
The website then takes over with automated marketing, sending carefully worded emails pre-timed at careful intervals to increase rapport and deliver more closed real estate deals.
Each website is delivered carefully pre-configured with the goal of delivering fully pre-screened and pre-negotiated deals. Real estate investors are therefore able to close more deals while spending less money, time and effort.
Each website is controlled from a simple virtual back office created so that even real estate investors with no computer experience can run their business with the websites. The front end of free of maintenance.
It comes loaded with hundreds of awe inspiring designs, fully customizable to suit individual needs. Changing designs take only one click of the mouse. The content remains unchanged.
A real estate investor can order a website and have it delivered fully customized and ready for business within one hour.
For more information, please visit
www.RealEstateInvestingWebsites.com
, or call 214-227-8718.