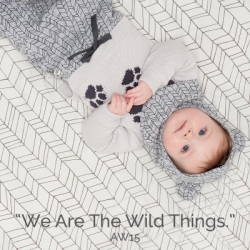 Brighton, United Kingdom, September 16, 2015 --(
PR.com
)-- Bonnie baby was founded in 2005, they are celebrating their 10th birthday with a new name and a wider range; enter- 'The bonnie mob'
The bonnie mob represents the fearless and the fun-loving. The spirit of freedom and the wildness of childhood. For the den builders, the wildlife hunters, the felt-tip masterpiece makers... Playful clothes from newborn snuggles to seven-year old explorers that spark imagination and go on never-ending adventures - a touch of handmade, a pinch of vintage and a whole heap of durability.
The Autumn Winter 2015 collection draws design inspiration from designer Tracey Samuel's own childhood, her memories of growing up in the 70's and 80's; romping through the Scottish countryside, always on an adventure - building gang huts, looking for wildlife, causing mischief on her beloved 'chopper' bike. Or stuck indoors on cloudy Scottish rainy days, dancing to Abba on the radio and drawing endless felt-tip pen masterpieces.
From the wild outdoors, creatures pop out of the designs: Mr. Banks the Badger, peeping rabbits and padding paw intarsia's mix seamlessly with a fun all over wilderness forest print for babywear. From the warm, cosy indoors let your little one find their inner 'Artist' whilst wearing textured chunky knits inspired by Granny's homespun creations. The colour palette is a soft monochrome of greys, charcoal and cream, mixed with bright yellow, mustard, teal, coral and pink. The jersey and cotton knits are in 100% certified organic cotton with other yarns having a cashmere touch, everything is super soft and snuggly, but machine washable for practicality. The look and feel is tactile and playful, a bonnie gang of kids, wearing colourful, durable clothes, made for playing and growing in, made to last.
Visit the website to view the collection or download the lookbook, http://www.thebonniemob.com
Note to Editors
* Bonnie baby was founded by Designer Tracey Samuel, a St Martins MA graduate who worked with many international designers. With nearly ten years in Paris as Knitwear Designer with Sonia Rykiel, before starting her own babywear business in 2005.
* Bonnie baby and now The bonnie mob is sold worldwide in independent boutiques and department stores such as Selfridges London, Barney's NY, Isetan Tokyo and Sogo Shanghai.
* Bonnie baby won the Junior Magazine 'Best designer babywear' award in 2011 and has been Highly commended in both 2012 and 2014.
Contact Us
For Press enquiries to call in samples or to request images please contact Kat at press@thebonniemob.com