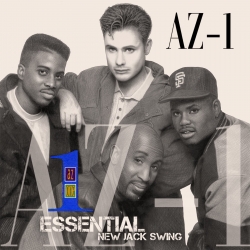 Los Angeles, CA, September 25, 2015 --(
PR.com
)-- AZ-1 have set Sept. 25th, 2015 as the release date for the highly anticipated re-release of their collection of hits from their 1990's releases, which boasted Top 40 Billboard success, as well joining the Top 20 in R&R charts. These urban radio hits that have been missing from the airwaves as well as the world of digital music distribution since 1993, until now.
The Essential New Jack Swing collection (TMM/Maddmattix Music) is now live on Apple Music, iTunes, Tidal and streaming radio services world wide. Both highly sought after versions of the hit "Trust In Me" are included, as well as the lost remix of the single "With You", a collaboration with "Eazy-E" of N.W.A., which until now has never been heard or released!
If you have not yet heard the "With You" remix with Eazy-E,
listen now!
AZ-1 first arrived on the urban music scene during the peak of the New Jack Swing influenced R&B radio days. They were naturals with the melodic ballads and soulful grooves, as showcased on the singles "Trust in Me", "With You" and the provocative "Let My Love Inside". Being mostly self contained in the creation of their music, the group had a creative persistence which always forced them right back in the studio to instantly remix their own music. The variety of collective influences of the band members was overseen creatively by producer and AZ-1 member Andre "L.A. Dre" Bolton. The veteran producer had worked closely around the "N.W.A" camp, and had already written and produced several hit records for artist such as "D.O.C" (No One Can Do It Better) and with Dr. Dre on the Michel'le hits "Nicety" and "Something In My Heart."
Band member and producer Jeff Gill was also an on-air radio personality at Los Angeles station KJLH FM. Not only was Jeff gifted at the New Jack style of beat programming and production, but brought an extra advantage in his knowledge of the radio industry and knowing how good remixes extend the life of a songs life at radio.
Brooklyn born rapper/singer "Shawn Harris" added another element altogether with not only his warm baritone singing voice, but his East Coast hip hop influence and skill on his highlighted rap verses.
Rounding out the crew was lead vocalist and songwriter Martin Kember, who released his viral solo single "
U Deserve It Girl
" earlier this year. Kember is also the former lead singer of 90's R&B phenoms "Color Me Badd." The "blue-eyed soul" singer, a native of London, England, recalls the meaning his original bands name "AZ-1": "You had L.A. Dre from Compton, Jeff from Los Angeles, Shawn from New York and myself from London. The four of us sat in the studio together watching the Rodney King riots go down. We were all so different but had a common love for music and a hunger for success. Were all friends because of that. Music and radio formats were more segregated in those days. As were the neighborhoods we grew up in individually. We didn't want to preach that as a message in our music lyrically, just set an example of how music melts those man-made boundaries. Musically, we were As One."
Eazy-E was introduced to the band by L.A. Dre. Based on their friendship, Eazy quickly agreed to jump on the remix of "With You" during a Los Angeles area recording session in 1993. AZ-1 is the only R&B group known that Eazy-E ever agreed to lend his voice and talents to! The remix was never released due to personnel changes at the groups then record label. Shortly after completion, the only master recording of the track thought to be in existence had been stolen when one of the band members car was burglarized. That was until now. Earlier this year, a digital copy of the master recording was accidentally discovered on an old DAT tape by the band, along with some other lost musical gems. This discovery could not be more timely and has no doubt has provoked ideas of the possibility of an AZ-1 reunion.
To learn more about AZ-1 (as-one), please visit:
Official Website:
az1music.com
Twitter: www.Twitter.com/AZ1_Music
Facebook: facebook.com/AZ1Music