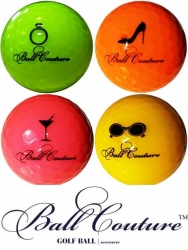 Littleton, CO, October 02, 2015 --(
PR.com
)-- Enter Ball Couture, the vision is easy to understand; performance, stylish, and fun which is why the tag line reads: "Play well, look good, have fun."
"We felt that the women who play golf are so underserved, we wanted to come up with something just for them but it had to be different and vibrant," says Ball Couture spokesperson Diane Christensen. "That is when we realized that we had to bring a classy but freshened approach to the golf ball scene. We took our time to produce an attractive box that would command attention, and thoughtfully considered the icons for each golf ball. And of course the ball would have to conform to USGA and R&A rules to meet the performance aspect."
Ball Couture yields a faster ball speed with low-spin resulting in long and consistent distance with the driver and long irons. Its pigment blended core produces the highest COR that results in longer and more consistent distance with the driver and irons. The ball is Urethane blended and thinner with a soft cover. It feels extremely soft and holds the green with "The Modern Ball Flight" and steep angle of descent to achieve the same behavior on balls. The HPC outer cover provides durability and excellent spins and its ND-Br core benefits both beginners and experts alike.
Ball Couture Golf Balls feature highly visible colors and stylish icons to match a woman's mood. They feature a high coverage 332 icosahedral dimple design pattern that provides greater lift, higher flight and greater distance. The ball's soft feel is preferred by women golfers around the green; chip shots and putts feel good and true.
Ball Couture Woman Golf Balls are available at leading pro shops, green grass retailers, sporting goods retailers, women's' golf apparel retailers, resort and spa gift retailers or online at www.ballcouture.com. They are ideal as a tee prize or tournament favor and make the perfect Advertising Specialty, Corporate Gift, Fundraising, Retirement or Executive Gift, or individual gift for the female golfer in your life (specialty logo printing available).
This is where fashion meets golf.