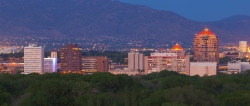 Albuquerque, NM, October 03, 2015 --(
PR.com
)-- One of the little known federal programs that was extended last night by the US Congress to avert a government shutdown is the 25 year-old EB-5 Immigrant Investment Program. Now investUS, LLC, a New Mexico company formerly known as the New Mexico Foreign Investment Center LLC, has taken an important first step in bringing foreign investment dollars to fund economic development under this successful program.
Earlier this week, investUS, LLC ("investUS") filed its first EB-5 financed project with the USCIS, the Department of Homeland Security that administers the EB-5 program. By partnering with an out-of-state developer and securities broker dealer, investUS will serve as the EB-5 regional center for a project that will create over 540 new permanent jobs. While the developer has not yet publicly announced their project, investUS is moving forward to prepare for the offering of this EB-5 investment opportunity to foreign investors. "In 2014, the US received over $5 billion in EB-5 investment dollars which will create over 100,000 permanent US jobs in the next two years. New Mexico has never accessed these funds but we plan to change that," stated Deborah Burns, CEO of investUS.
investUS was founded to promote and facilitate the federal EB-5 Immigrant Investor Program, which provides investors from other countries the opportunity to invest in American businesses to create new US jobs and receive, in return, permanent US visas for themselves and their immediate families. The investUS mission is to serve businesses, communities and economic development agencies throughout the state by offering a turnkey solution to EB-5 financing.
What does this mean for NM?
Mark Lautman, President of investUS, says, "This is an important milestone for New Mexico. We were one of the few states in the country that didn't have an EB-5 Regional Center that could serve the state. So New Mexico was unable to access this low cost stream of foreign investment capital for economic development projects - until now."
The EB-5 program has been called the most successful economic development mechanism ever created by Congress.
Robert Singer, General Counsel, stated, "This program gives New Mexico an important tool to compete for new businesses looking to relocate to or expand in the Southwest. Other states offer EB-5 capital as an incentive to attract new businesses and New Mexico has never been able to offer this important source of low cost foreign capital. Now the state's economic developers, business owners and entrepreneurs have access to a growing stream of foreign investment to plug gaps in the financing of job creation projects, resulting in more jobs for New Mexicans."
Mr. Lautman indicated that "investUS was conceived through the efforts of the CELab, a New-Mexico based non-profit think tank, focused on innovative ways to do economic and workforce development in a labor and capital constrained economy."
To learn more about the EB-5 Program and investUS, go to www.investUS-eb5.com and then attend an informational meeting.
Register here
for the next meeting at 3 PM on Thursday, October 29th at the WESST Enterprise Center in Albuquerque.
Contact: Deborah Burns
505 246-6902
dburns@investUS-eb5.com