Amaryllo Introduces iCare FHD, the First Urgent Home Care Camera Based on WebRTC
With one click, iCare FHD sends urgent snapshots to your loved ones anywhere, anytime. iCare FHD is the first DIY urgent home care camera featuring innovative face alert, video alert, and 365-day cloud storage.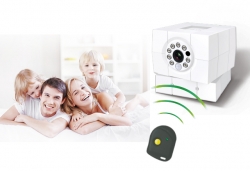 Amsterdam, Netherlands, October 03, 2015 --(
PR.com
)-- Amaryllo International B.V. (Amaryllo), founded in Amsterdam, the Netherlands, reveals iCare FHD to address the urgent care market. Featuring a full HD 1920 x 1080 resolution and a built-in proprietary wireless receiver, iCare FHD is a new breed of network camera with a remote control to reach your loved ones. With one click, the compact remote control will prompt the camera to take a snapshot and dispatch to all pre-registered family members. This patent-pending technology is particularly useful for people who constantly require attention to their welfare and condition. With a press on the controller, an unlimited number of care takers and family members will be notified in seconds anywhere, anytime.
Thanks to its advanced embedded technologies and face recognition algorithm, iCare FHD is the first urgent home care camera able to identify faces and dispatch Face Alerts to all registered family members. This is particular useful as it can be used as home security protection when intruders enter. Furthermore, iCare FHD is able to dispatch 10-second video alerts to pre-registered members when the built-in sensors are triggered. The video alerts rewind 3 seconds before the event occurred so you can watch what happened before it happened. Both Face Alerts and Video Alerts are free services under Amaryllo cloud storage plans.
Amaryllo offers free 24-hour unlimited cloud storage to all of its products, so consumers can retrieve recorded video files within the past 24 hours. If more storage is needed, Amaryllo provides additional low-cost 30-day and 365-day unlimited cloud storage plans.
Amaryllo is the first company developing and marketing urgent home care and security products with WebRTC technologies. By employing world's best 256-bit encryption, consumers' privacy is well protected. "Amaryllo is devoted to offering a new breed of smart urgent home care camera for everyone. iCare FHD makes people to live independently and safely," said Stefan Mitzkus, sales manager at Amaryllo. For more information on iCare FHD, please visit their promotional
campaign
at Indiegogo.
Amaryllo will demonstrate its award-winning security robots and home care products at 208, Hall 2 Gitex Dubai from Sunday October 18 to Thursday October 22. To reserve a private product demonstration or to receive product details, please contact Amaryllo at sales.ai@amaryllo.eu. For product information, please visit our website at service.amaryllo.eu.
About Amaryllo International B.V.
Amaryllo International B.V. (Amaryllo) is a worldwide leading smart home service company. Founded in Amsterdam, the Netherlands with facilities in Asia, Amaryllo develops award-winning robotics cameras, home care and home security products. Amaryllo is a licensee of Apple MFi, Skype Developer, Windows Developer, Google Play Developer, AAC+, UPnP, Bluetooth SIG, etc.
540 Singel, 1017 AZ, Amsterdam, the Netherlands
T: +31 208941387
F: +31 208941333
sales.ai@amaryllo.eu
www.amaryllo.eu
Contact
Amaryllo International B.V.
Kevin Pothoven
+31208941387
www.amaryllo.eu

Contact