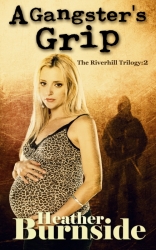 Manchester, United Kingdom, October 08, 2015 --(
PR.com
)-- Heather Burnside is pleased to announce the launch of her latest novel, "
A Gangster's Grip
," which is set in Manchester, UK during the 1990s. This particular period saw an escalation in gun crime and other violent crime, which was mainly attributable to inter-gang rivalry.
About the book:
"A Gangster's Grip" is a crime thriller set in the Manchester suburbs of Moss Side and Longsight. It is the second part in The Riverhill Trilogy and takes place in 1991 during a volatile period of gang-related violence.
The novel features Rita, a young woman who returns to her parents' home in Manchester after a few years away to find a spliff smoking, beer swilling thug firmly ensconced on their sofa. She is shocked to learn that he is her sister Jenny's boyfriend, and senses that he is trouble.
The more Rita finds out about Jenny's boyfriend, Leroy, the more she mistrusts him. As she uncovers the truth about his shady dealings, she becomes anxious about Jenny's safety and is desperate to lure her away from him. Rita's mettle is tested as she tries to protect her sister while battling with personal health concerns.
But it's worse than Rita could ever have suspected. Through her association with Leroy, Jenny is about to become embroiled in the most dangerous phase in Manchester's recent history.
Author Heather Burnside comments, "This is a fast-paced, gritty thriller, which is full of suspense and danger. As with my previous novel, 'Slur', there is also an emotional side to the novel, which enables the reader to identify with the main characters."
About the author:
Heather Burnside is an experienced writer who also operates a writing services business and has ghost-written a number of non-fiction books on behalf of clients. "A Gangster's Grip" is the second novel that Heather has published; her first novel "Slur" received excellent reviews. She has also published a short story book entitled "Crime, Conflict & Consequences."
The author took the decision to base the trilogy in Manchester, UK as it is an area that she is familiar with, having lived there all her life. However, in order to write "A Gangster's Grip" Heather also carried out a lot of detailed research relating to the gang culture of 90s Manchester.
Heather intends to follow "A Gangster's Grip" with the third and final book in the trilogy, which will be published in summer 2016. She will then be developing other ideas for standalone crime thrillers.
You can find out more about Heather's books by visiting her website at the address shown below, or be the first to find out about new releases, background information and any other news related to Heather's books by signing up to her mailing list using the link on her website.