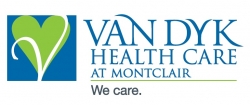 Montclair, NJ, October 09, 2015 --(
PR.com
)-- The National Research Corporation has named Van Dyk Health Care at Montclair a distinguished recipient of the Excellence in Action award. This honor recognizes leaders in long term care, ranking within the top 10 percent of care providers, for achieving the highest satisfaction scores among patients and employees.
"We firmly believe that having a quality staff leads to quality patient outcomes," said Jacqueline Cousins, who serves as the administrator at Van Dyk Montclair, as well as the company's Vice President of Data Strategy. "This award is proof of that commitment, and our staff deserves all the credit for achieving these high satisfaction ratings from our patients."
Van Dyk Montclair, a first-time winner of the Excellence in Action award, is one of only seven providers in New Jersey that was commended for a "Superior Commitment to Skilled Nursing Workforce satisfaction" for 2014-2015. The rejuvenated Montclair facility has also qualified for the last three years for the American Health Care Association's "Quality Initiative," specifically in Staff Stability. AHCA recognizes leading care providers for cultivating highly satisfied, well-trained and committed staff.
"We are exceptionally proud of our Montclair staff and everything that they have achieved to provide our patients with quality care," said CEO Bob Van Dyk, who received the AHCA Joe Warner Award for Patient Advocacy earlier this year. "Our performance is a direct reflection of our commitment to treat every employee and every patient and resident as a part of the Van Dyk family."
In order to be eligible for the Excellence in Action award, Van Dyk Montclair allowed patients and employees to complete satisfaction surveys in 2014. Along with exceeding the minimum 30 percent response rate, Van Dyk Montclair finished in the top 10 percent of qualifying facilities that were rated "excellent."
"[This award] defines what it means for providers to provide the right kind of care – patient-centered care – for their residents, families, and employees," said Jason Stevens, Senior Vice President of Business Development at National Research, which measures patient satisfaction and employee satisfaction through various cross-continuum metrics and analytics.
About Van Dyk Health Care at Montclair
Van Dyk at Montclair is one of three distinguished facilities within the VDHC family, along with Van Dyk Ridgewood and Van Dyk Park Place. Founded in 1953, the organization has built an unsurpassed reputation for excellence in care, beginning with founder Marvin Van Dyk and continuing today with his son Robert Van Dyk and the company's dedicated staff, all of whom share a mission of delivering quality care services to others in need. Van Dyk Health Care offers the full continuum of care services, including post-acute, assisted living, skilled nursing and long-term chronic care. The organization is committed to working closely with its hospital and medical partners to ensure its short-stay patients return home quickly and safely. Learn more at vandykhealthcare.com or 973-783-9400.