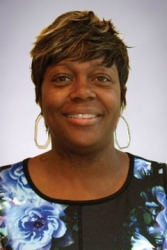 Atlanta, GA, October 15, 2015 --(
PR.com
)-- PrivatePlus Mortgage, a division of Private Bank of Buckhead, has named Antoinette Macon as a Disclosure Desk Specialist.
"Antoinette takes pride in her job and brings a great range of mortgage experience to her role," says Nicki Wynn, Quality Control & Compliance Officer for PrivatePlus, "which makes her a great fit for our team."
Macon previously worked with a reverse mortgage company, as a compliance and licensing analyst and, prior to that, as an underwriting review analyst. She also is a paralegal, which gives her a unique perspective on her work.
"I enjoy keeping up with the ever-evolving mortgage industry," Macon says. "It keeps me on my toes."
Away from work, she enjoys attending concerts several times a year, both in state and out of state, and is a sports enthusiast, following both college and professional football and basketball. She has volunteered with the National Association of Free Healthcare and resides with her husband and family in Lithia Springs. Her family includes a son, a daughter and "two beautiful granddaughters."
PrivatePlus Mortgage, promises great products, pricing, processes and people. It offers a full range of mortgage products: Purchase, Refinance, Investment, Jumbo products, Second home, Construction, Multiple collateral, Fixed second, Home equity, Lot loan, and more. It is located in Piedmont Center (Building Three), and does business nationally; see Web site for geographical restrictions: www.PrivatePlusMortgage.com. In addition to the mortgage division, Private Bank of Buckhead – now in its ninth year – also includes a Decatur location, known as Private Bank of Decatur.