Houston's Dog Whisperer, Jim Burwell of Jim Burwell's Petiquette is Featured in the USA Today's December 2007 Article on "Out of the Box" Franchising
USA Today interviews Jim Burwell of Jim Burwell's Petiquette on his "outside the box" franchise of in-home dog training.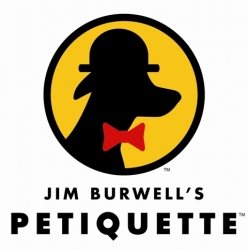 Houston, TX, December 13, 2007 --(
PR.com
)-- Jim Burwell's Petiquette, responding to the needs of today's busy consumers, is a franchise that truly is innovative. "We come to you to train your dog. Dog training is best done in the environment where the behavior occurs. What better way to help dogs stay with their forever families, than by coming to the owner's home, at a time convenient for them?" says Burwell. "Owners are able to concentrate better, we can address behaviors that are specific to that owner and their dog and it's much more relaxed and natural. It's an "Opportunity That Barks!"
Jim Burwell has taken his 25 years of dog training and expertise that earned him the title "Houston's Dog Whisperer" by the Houston Chronicle and has expanded his business to train franchisees to help families who love their pets, but lack the time and knowledge to teach them proper manners, or "Petiquette".
His "outside the box" dog training franchise, taps into key drivers in the growing pet industry such as the "great American time crunch" of the two income family and longer working hours. Packaged Facts has projected in-home services will be a "core market driver and point of competitive differentiation" in the future, given both the time crunch and the growing elderly population.
The pet market is consistently ranked in the top ten for business opportunities, and as more and more dog owners are assimilated into the fold of "dog people," things will only get better business-wise.
Jim Burwell's Petiquette addresses this market driver and also the fact that dog training is the fastest growing segment of the pet industry. According to Packaged Facts, dog training grew 10.5% annually, from $595 million in 2001 to $887 million in 2005. Services in the pet industry are expected to grow 6.8% over the next five years, led by training at 8.4% annually.
"I feel truly fortunate to empower people to take control of their destiny, take their passion for dogs and turn that passion and that drive into a rewarding career not only monetarily but also in keeping dogs in their forever homes," says Burwell.
The Petiquette Franchise Program gives franchisees the business model, the system and the tools they need to help them be successful. Franchisees benefit from an excellent dog training method that millions of American dog owners want and need.
"Opportunity Barks!"' says Burwell
About Jim Burwell's Petiquette
Jim Burwell's Petiquette™ offers entrepreneurs and dog owners the benefits of a 25 year proven method of in-home dog training and behavior modification, using positive reinforcement to achieve training goals, and a working partnership with experts like no other. Their goal is to help owners establish peaceful, rewarding, enduring relationships with their dog. In 1988, after building a successful career in commercial banking for more than two decades, Petiquette founder Jim Burwell felt it was time to trade in his expertise in banking to start a business in barking. Proclaimed by the 4th largest city in the U.S. as "The Houston Dog Whisperer," by the Houston Chronicle, Burwell has become one of the nation's most established and thriving dog trainers. His in-home dog training process, The Burwell Method, applies to canines of virtually all breeds and their owners. Franchising since 2006, Petiquette currently operates one company owned unit and two franchise units. Company plans call for 110 locations nationwide in 2011. For more information on Petiquette in-home training or for more information on Jim Burwell's Petiquette Franchise opportunity please visit www.petiquettedog.com or call 1-866-336-9300
###
Contact
Jim Burwell's Petiquette In Home Dog Training Franchise
Leila Burwell
1-866-336-9300
www.petiquettedog.com

Contact