Trap Rock Group Chef Sean and Blaze Charting at Number 5 on Billboard Biz Under Hot New Single for "Stash in the Hoopty"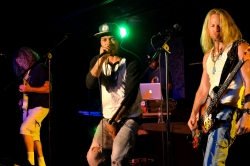 Los Angeles, CA, October 22, 2015 --(
PR.com
)-- Trap Rock group "Chef Sean and Blaze" recently released their newest music video and single entitled "Stash in the Hoopty," that has since charted at number five on Billboard Biz for Hot New Singles. The group's front man and Chicago native Chef Sean is no stranger to the spotlight. Chef Sean, also known as Sean Christopher Hutchinson, started out acting at a young age. Sean has appeared in an Oprah Winfrey film, entitled "There Are No Children Here." He also played a lead role in the film "Jason's Lyric," starring Forest Whitaker and Jada Pinkett Smith. Along the way of entertaining, Sean discovered his love for music and his rap skills. Sean had the opportunity to collaborate with some of the greatest producers and artists in the music industry. This allowed Sean to grow his gift and passion for his music. Sean Christopher Hutchinson, therefore, became what we see performing on stage as Chef Sean.
The demand for Chef Sean's music grew, so he relocated to Los Angeles, California. Upon his arrival, Chef Sean was introduced to a rock group while filming his new movie he starred in called "Teeth and Blood." The Band had a heavy rock music feel to them and were helping with music for the film. Chef Sean instantly gravitated to their sound and began rapping and writing to some of their tracks. Chef Sean was inspired musically and thus put these two sounds together and created what we know today as the Trap Rock group, "Chef Sean & Blaze." Members of Chef Sean and Blaze include Jeff Gilbert on Bass, Scott Stratton as lead guitar, Jim Xavier on drums, and Frank Guthrie on guitar. Terrace Martin is the music producer for "Stash in the Hoopty."
Due to the group's unique sound, a year later the synergy has made them a sought after band. With a ton of performances, reviews, a movie soundtrack, single releases, and now a music video premiere, "Chef Sean and Blaze" are revolutionizing the sound of music and breaking the boundaries of diversity. Chef Sean's music roots stem from Chicago. His musical inspirations paired with talented band mates showcase the vision behind Sean's new music video "Stash in the Hoopty." This Chef Sean and Blaze collaboration demonstrates the original concept of Trap Rock Music. Al Franklin and Anyika Pryor directed the video for RobStar Music. "Stash in the Hoopty" was shot on the red camera in Hollywood, California. Al and Anyika utilized edgy filters to give it that raw old school artsy attribute. Special thanks to Al Kirk for his day to day work with rehearsals, communication and equiment for Chef Sean & Blaze. To view "stash In The Hoopty" go to:
youtu.be/XXPuT7Jq5XA
Contact
Kelly K PR
Kelly K
626-252-4416
www.kellykpr.com

Contact