Badger Truck Center Promotes Ray Pannemann to General Sales Manager
Pannemann brings 13 years of experience to new General Sales Manager position.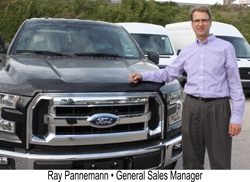 Milwaukee, WI, October 21, 2015 --(
PR.com
)-- Badger Truck Center, a family owned dealership, has announced the promotion of Ray Pannemann from Sales Manager to General Sales Manager. Based out of Milwaukee, Wisconsin Pannemann will oversee all aspects of both new and used vehicle sales.
Paul Schlagenhauf, President of Badger Truck Center, commented, "Ray has been with us for more than 13 years, and over that time has worked to organize and streamline our sales department, demonstrating his passion for new business development. We value his experience in the commercial truck market and his integrity in the retail space, creating a balance that will no doubt lead Badger Truck to success."
In this position, Pannemann will be working in tandem with Badger Truck's newly created Wholesale Manager and Pre-Owned Equipment Manager positions. Schlagenhauf added, "We will be able to more closely watch our inventories, purchasing what our customers need and allowing us to provide a more efficient sales experience for them."
Previously, Pannemann was the Vice President and Co-Owner of Don-Ray, Inc. a food distributor in the Milwaukee area. "Being in the business for more than 13 years, I'm looking forward to once again expanding my role, and working specifically with these new managers to streamline our current processes," Pannemann commented. "These days we really find that we are ­­­much more familiar with our customer's goals. We have closer business relationships with them and the steps that we are taking, such as expanding these departments, directly impacts how our customers work, and they appreciate the fact that we work with them to help determine how we strategize our inventory."
About Badger Truck Center
Badger Truck Center, celebrating 50 years in business, is a second generation, family-owned dealership with locations throughout southeastern Wisconsin. Badger started its business with the Ford franchise and has expanded to include Isuzu and Chrysler, Dodge, Jeep and Ram. Additionally, Badger Truck has expanded its line of businesses to provide complementary services to its customers, including service, parts, Quick Lane Tire and Auto Center, and Badger Rebuild. Badger's philosophy of teamwork, integrity, and open communication with customers ensures high quality vehicles at the best value. Headquartered in Milwaukee, Wisconsin, Badger services customers throughout the nation. To learn more, visit badgertruck.com, or call 414-344-9500.
Contact
Badger Truck Center
Chris Duncan
414-344-9500
www.newglarusmotors.com

Contact