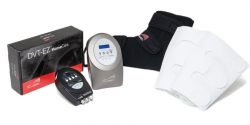 Tulsa, OK, October 27, 2015 --(
PR.com
)-- Compression Solutions has been awarded a group purchasing agreement for Vascular Compression Therapy with Premier, Inc., a leading healthcare improvement company. Effective December 1, 2015, the new agreement allows Premier members, at their discretion, to take advantage of special pricing and terms pre- negotiated by Premier for DVT (Deep Vein Thrombosis) prevention products including in-facility pumps and SCDs and Take-Home DVT prevention pumps.
"We are excited to have the opportunity to provide Premier members the only true full continuum of DVT prevention from the hospital to the patient's home during recovery," says Mark Farrow, President and CEO of Compression Solutions. "Every year, hundreds of thousands of people die from DVT and related PE (pulmonary embolism) and post-surgical patients are often at the highest risk for DVT/PE while they are recovering at home. We are happy to be able to provide a solution to hospitals and their patients, to help save lives and reduce readmissions."
Compression Solutions offers the Triple Play ProTMDVT prevention pump in hospitals and surgical centers and the portable Triple Play VT® for home use by post-surgical or non-ambulatory patients during recovery. In addition to the DVT prevention, both the Triple Play Pro and Triple Play VT can provide cold and compression therapy with orthotic wraps for shoulder, hip, knee, ankle, elbow and back. Cold and compression therapy reduces joint pain and edema.
Compression Solutions is a BOC-accredited, durable medical equipment provider and manufacturer of the Triple Play ProTM and Triple Play VT® DVT prevention devices.
For more information, contact Teresa Slagle at 800-994-0464.