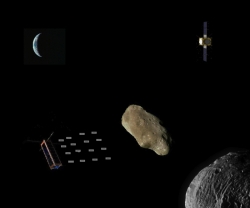 Washington, DC, November 03, 2015 --(
PR.com
)-- The European Space Agency (ESA) has selected "Pixie" landers for possible inclusion in the ESA Asteroid Impact Mission (AIM). Pixies, tiny 40 gm (1.4 oz) spacecraft created by the American company Asteroid Initiatives LLC (www.asteroidinitiatives.com), are one component of the Asteroid Geological Explorer (AGEX) selected as a candidate for the AIM CubeSat Opportunity Payloads (COPINS). In this technology demonstration, a swarm of 40 Pixie femtospacecraft would be deployed to blanket the moon of the binary asteroid (65803) Didymos with a wide variety of sensors, complementing the SeisCube seismometer system, the other AGEX component. AIM and COPINS are part of the AIDA (Asteroid Impact & Deflection Assessment) asteroid defense test being jointly considered by ESA and the US National Aeronautics and Space Administration (NASA). AIDA, the first asteroid "kinetic impactor" deflection test, would also include US DART spacecraft, which would conduct a high velocity impact of the small moon (the "Didymoon") of Didymos in early October, 2022.
"AIDA will be a test of the defense of the Earth against potentially hazardous asteroids. The NASA DART spacecraft will hit the Didymoon at high speed, in an attempt to deflect it. We will deploy a swarm of 40 Pixie chipsats, each a little smaller than a typical TV remote control, across the surface of the Didymoon. The Pixies help fulfill AIM mission objectives by providing detailed information from across the Didymoon surface before, during and after the DART impact that would be simply impossible to obtain by a few spot visits by larger spacecraft," said Asteroid Initiatives CEO and founder Marshall Eubanks. "We are excited at the possibility of applying our femtospacecraft technology to help further planetary defense, and also in furthering the development of technology that will be crucial to future asteroid exploration and asteroid mining," added Charles Radley, Chief Technical Officer at Asteroid Initiatives.
The Pixies would be carried by a 3-U "Bradbury" CubeSat to be launched from the main AIM spacecraft. The Bradbury would carry the Pixies to a release point near the Didymoon, deploy them onto its surface, and transfer data back to the AIM spacecraft, and thus to Earth. The Pixies will be used as a spacecraft swarm to better describe surface properties, provide redundancy against the malfunction or loss of individual Pixies, and to allow for data transfer and positioning between swarm members.
The mission study for the Asteroid Geological Explorer project is led by the Royal Observatory of Belgium and includes participation by ISAE-SUPAERO (France), Antwerp Space (Belgium), Asteroid Initiatives LLC (USA) and EMXYS (Spain). The COPINS selection was announced by ESA November 2, 2015 (http://www.esa.int/Our_Activities/Space_Engineering_Technology/Asteroid_Impact_Mission/CubeSat_companions_for_ESA_s_asteroid_mission).
Asteroid Initiatives is seeking University partners to develop instrumentation for its Pixie landers.
About Asteroid Initiatives:
Asteroid Initiatives LLC (www.asteroidinitiatives.com) was founded to unlock the economic potential of deep space through asteroid exploration and economic development.