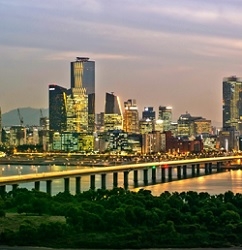 New York, NY, November 05, 2015 --(
PR.com
)-- A recent report by the Seoul Metropolitan Government (SMG) stated that the city of Seoul has achieved a record high 6th in the Global Financial Centres Index (GFCI), which is announced by the British consulting group, Z/Yen, based on the analysis of the financial competitiveness of the world's major cities.
GFCI is a representative index that measures the financial competitiveness of the world's major cities. The index is calculated as an aggregate of indices from five areas: "business environment," "financial sector development," "infrastructure," "human capital," and "reputation and general," according to sources including an on-line questionnaire participated in by finance industry professionals from around the world, and assessments made by external institutions such as the International Institute for Management Development (IMD) and World Economic Forum (WEF). The index has been published in March and September every year since 2007.
In March this year Seoul went up a rank, moving from 8th to 7th, and then once more to 6th at the September publication. Seoul's GFCI ranking has shown a constant upward trend since the index's inception in 2007. Though in March 2009 Seoul was ranked 53rd due to the impacts of the global financial crisis, since then it has managed to climb its way to 6th, moving some 57 ranks. Among the top ranking cities, London came in at 1st followed by New York at 2nd, Hong Kong 3rd, and Singapore 4th.
Seoul's achievement of ranking the 6th top global financial city can be attributed to the way it has nurtured its financial center, built infrastructure, and improved the investment environment for foreign residents. After designating Yeouido as Seoul's financial center, the SMG has been continuously making efforts to attract foreign financial institutions by conducting investor relations collaboratively with the Financial Service Commission and the Financial Supervisory Service. And with the enactment of the Financial Industry Development Act in July 2015, the SMG is set to accelerate these activities. Yeouido IFC, which was established in 2012, continues to welcome numerous foreign financial institutions and is also operating the Global Business Center to support the business activities of foreigners.
Moreover, the residential environment for foreigners is continuously improving, with the construction of foreigner-specific medical facilities and schools. The director of Economic Promotion Agency, SMG, Seo Dongrok stated "the rise in the GFCI ranking reflects the progress of the SMG's strategy to foster Seoul's financial center," and that "the Seoul Metropolitan Government (www.investseoul.com) will continue to concentrate on promoting the improvement of Seoul's financial competitiveness as well as the attraction of notable financial institutions from abroad."