Cool Mini Now FDA Approved to Freeze Off a Double Chin Offered at Yolo Laser Center & Med Spa
Yolo Laser Center & Med Spa, an Award Winning Cosmetic Laser Center Among First to Offer CoolSculpting+® and CoolMini to Treat a Double Chin in Connecticut.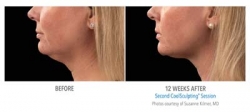 Guilford, CT, November 05, 2015 --(
PR.com
)-- CoolSculpting®, an innovative technology that freezes away unwanted fat, is now available at Yolo Laser Center & Med Spa, making it one of the first medical practices in the state of Connecticut in New Haven County, to offer this breakthrough in non-invasive fat reduction for a double chin.
"CoolSculpting is an established non-invasive technology that is now available to treat a double chin. This is an exciting development, prior to CoolSculpting the only option to treating a double chin involved surgery," said Nikki Rasmussen Nurse Practitioner.
Unlike many other methods of fat reduction, such as Kybella®, CoolSculpting involves no needles, surgery or downtime. During the procedure, a non-invasive applicator delivers precisely controlled cooling to the treatment area thereby specifically targeting fat. Treatment to the chin is about one hour. Yolo Laser Center & Med Spa is the only Laser Center in Connecticut to offer CoolSculpting+. "Yolo takes CoolSculpting treatments up a notch. CoolsSculpting+ is offered in a plush spa setting with warm linens, soothing music of the client's choice, and the option of adding on services such as BabyFoot exfoliation, a manicure, foot massage or other luxury spa services," said the owner, Nikki Rasmussen. "Clients really enjoy the extra steps we take to make the treatment relaxing and save them time by performing consecutive spa services," states Rasmussen.
About Yolo Laser Center & Med Spa
Yolo Laser Center & Med Spa is an award winning Cosmetic Laser Center located in Guilford, Connecticut. Yolo's offerings include the latest in optimal aging services as well as medical weight loss. The owner Nikki Rasmussen, Nurse Practitioner opened Yolo to bridge the gap between a Medical office and a Spa. Yolo Laser Center & Med Spa is a unique concierge aesthetic medical center that focuses on the individual and their specific needs.
Contact
Yolo Laser Center & Med Spa
Nikki Rasmussen
203-533-4560
www.yolomedspa.com

Contact