Celtic Casino Launches Live Game of Thrones Tournament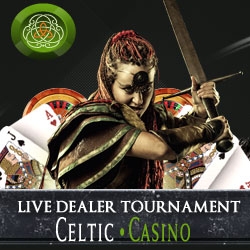 London, United Kingdom, November 10, 2015 --(
PR.com
)--
Celtic Casino
has announced the release of their highly acclaimed Live Game Of Thrones Tournament. The third annual edition of the tournament comes back seeking to crown four players as the new kings of Live Roulette, Live Baccarat, Live Blackjack and all of live the live dealer games.
The tournament is four months long and dedicates each month to only one specific live dealer casino game at a time excluding the last month which is meant to proclaim the king of all live games. For those participating a cash prize of €2000 per month will be given to the 1st place winner, €500 to second place and €100 for 3rd to 10th place. All winners will be announced on the website with a permanent post for this 2015 season.
The tournament schedule is as follows:
- October 1st through October 31st: Live Roulette King
- November 1st through November 30th: Live Baccarat King
- December 1st through December 31st : Live Blackjack
- January 1st through January 31st All Live Games to determine who is the "King of the Live Games"
Players participating will be receiving daily leader board statuses during the length of the tournament event and players earn tournament points by presenting their wagering activity on the specific live dealer game for the month using real money.
The total amount in wagers will determine the amount of points they earn. In other words for every euro/pound wagered a point is earned, this means a 100 euro/pound bet gives a player 100 points in return regardless if the bet is a win or loss.
Celtic Casino definitely catches the attention of their fan base every year with this tournament keeping in mind the fact that their players are fond of medieval based themes. On the other hand, everyone loves Game of Thrones these days and knowing their tournament is inspired off the all time favorite television series just makes it impossible to not join the action.
Contact
CelticCasino.com
Adam Chandler
506-2293-8410
www.CelticCasino.com

Contact