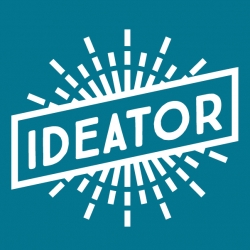 San Diego, CA, November 17, 2015 --(
PR.com
)-- Ideator, the startup who ran the
Idea Competition
during San Diego Startup Week, is running another idea competition. Now open to the public, this idea competition will be run entirely virtually.
The Ideator December Challenge
will accept idea submissions until December 13th.
The Idea Competition is launching to give ideators the opportunity to engage in friendly competition while granting the top idea $10,000 to kickstart their idea. The best idea will be determined by a panel of experts with the judging criteria in mind. Ideator is teaming up with Salesforce, box.org, Google, LegalZoom, CrunchBase, Band of Angels, Pledge 1%, and the Nasdaq Entrepreneurial Center to run this challenge and foster innovation in a virtual space. Judges include:
Nicola Corzine – Executive Director of Nasdaq Entrepreneurial Center
Ludovic Ulrich – Head of Startup Relations at Salesforce for StartUps
Chelsea Shukov – CEO and Founder of Sugar Paper
Bryan Breckenridge – Executive Director of Box.org
Jager McConnell – CEO of CrunchBase
The Ideators with the top 5 ideas will present to the panel of judges. The Ideator who is recognized as first place will receive a kickstart package that will include a check for $10,000, access to key mentors and investors from the Ideator community, free tools from sponsors, and an invitation to the Ideator Advisory Board program. The program is reserved for the top ideas and teams in the Ideator community who seek advisory services for launching their business.
"Ideator is excited to be a part of such a creative event in which innovation, design thinking, and entrepreneurship come together to create solutions. A really interesting thing about the December Challenge and all idea competitions that Ideator hosts is that it doesn't stop when the idea competition ends. With Ideator, that's just the beginning," said Charlie Smith, CTO of Ideator.
The December Challenge, in true Ideator form, is neither industry nor geography-specific. The team at Ideator and sponsor companies are spreading the word globally, and are calling for all entrepreneurs, makers, innovators, ideators from all industries to submit their ideas for a chance to win $10,000. It's free to enter, and all ideas can be submitted now through December 13th. Please follow this
link
to signup.